Permaculture Workshops at Ananda Village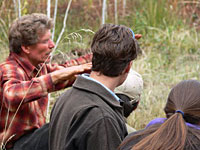 Saturdays 9 am–1pm
Workshops
Permaculture is a system to help humans live in greater harmony with the wisdom of nature.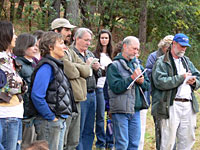 At Ananda we're working with two Permaculture experts, Tom and Renee Wade, to discover how to create Food Forests.
You're invited to join in these valuable and fun sessions.
What is a Food Forest? It is an orchard and garden combined into a biodiverse, forest-mimicking, multi-layered, symbiotic mix of edible and medicinal plants. By design, it maximizes the productive use of light, water, and soil nutrients.
These workshops are offered Saturdays from 9 am–1 pm.
Weaving the Layers of the Food Forest, part II
Understand how to place plants in relation to each other
Gain confidence in designing plant guilds for your own place
Learn how to work with wetland areas
The Flora Needs the Fauna
Learn a multi-layered approach to gophers
Find out how to assist the pollinators
Understand how to integrate birds (chickens, ducks, geese) into the food forest, including the do's and don'ts of building a chicken tractor
Tom and Renee Wade are certified Permaculture Design Consultants with 35 years combined experience in professional organic landscaping and gardening, with 10 years' experience in the Sierra microclimate.
Work Parties
In addition, there are Work Party mornings, at no charge. You will join about 30 Ananda Village residents in the work, and will learn a tremendous amount about Permaculture in the process.
You may register as an Expanding Light Personal Retreat guest.
Personal Retreats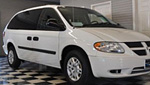 Sacramento Airport Pick-up and Drop-off. Learn more...
Personal Retreat (PR)
Personal Retreat is available almost every day, except the nights of:
2023
Sep 22-23
2024
Jan 8-11, Jul 1-4, Aug 18-20
Personal Retreat guests: you need to make your reservation by 4 pm the day before your arrival so that we may properly serve you.
Today's Daily Rates
Tent
RV
Standard
Shared
Standard
Private
Deluxe
Shared
Deluxe
Private
$114
$157
$224
$206
$298
Prices are all-inclusive and cover accommodations, meals, classes or activities, and course materials.
Please see:
Sacramento Airport Pick-up and Drop-off. Learn more...
"I could not have envisioned a more perfect personal retreat..."
– Pamela Hazard, Santa Barbara, CA
More testimonials…