Workshops Testimonials
General Experience
"Where else can you go and in 4 days experience Yoga and Energization exercises lead by 5 different people, each with a uniquely different and equally valuable teaching style? Where else can you experience quiet so quiet that you can hear the leaves fall like rain drops? Where else is meditation effortless? Where else can you leave with far more insight than you had even hoped for? Where else can you feel embraced by compassion? Where else do you see for miles and miles, mountains and towering pines? Where else can you buy wonderful scarves and meditation supplies from the most aesthetically run boutique in California? Where else does the heart of Yogananda live?"
– A recent guest
"The grounds, the accommodations, the food and especially the offerings were wonderful...the latter life-changing. Thank you and Joy to you! My husband said, when I asked him if there were any recommendations that he would suggest to improve the experience, "That would be like asking how to improve heaven."
–Sarah G, Florida
"My time at The Expanding Light was truly the most uplifting and reassuring time in my life. Reassuring knowing that good work towards spirituality is going on in this country. And people come here from all walks of life and all parts of the world to become enlightened. The people operating this place have a calmness that immediately touches one and makes it the place it is. I leave here healthier, wiser, and spiritually affected."
– D.D., Hokianga, New Zealand
"The love and joy that comes from everyone here – it's so wonderful and welcome! To be in such a giving, non–judgmental, loving environment has taught me so much about what life can truly be. My entire concept of yoga has changed dramatically in these five days, and I will be forever grateful."
– Debbie, Agana, Guam
"The gentle and loving and smiling staff, the homey comforting food and accommodations, the beautiful, calming scenery, the vast amounts of knowledge and willingness to share – all were great sources of joy during my stay here at The Expanding Light."
– Anna, Los Angeles, CA
"Everything was top notch! Beautiful setting. Immaculate facilities. Nutritious food, friendly staff willing to help in any capacity. A real sense of inclusivity. For everyone on a spiritual search (knowing or unknowing), The Expanding Light is an invitation, not an imposition."
– Bree, Athens, Georgia
"I had heard about Ananda through a friend and was interested in getting away for a vacation. Though I did not really know what to expect, I was open to learning and relaxing. I am now leaving with so much more. I feel a sense of calmness and serenity that I had lost for a long time. Not only that, but I'm leaving with knowledge, tools, and resources to help me take this feeling back to my home environment. I now look forward to growing more spiritually every day! Thank you."
– Antonia, Fremont, CA
"I loved the feeling of joy, nonjudgement, and peace that I received from others. The physical surroundings both man–made and God–made created a feeling of healing for me."
– Susan, Sacramento, CA
"Sometimes when I visit The Expanding Light, I am only able to do so for a weekend program, but what a difference three days makes! Being enveloped in the vibrant energy of the great souls leading and assisting this retreat is always so restorative. The calmness and perspective I gain allows me to arise renewed and ready to greet new challenges in my life with more joy!"
– Tracy, Marblehead, MA
Personal Retreat
"I could not have envisioned a more perfect personal retreat experience. Or perhaps I should say, it was the personal retreat experience I envisioned and needed and more."
– Pamela, Santa Barbara, CA
"I benefited so much from the counseling I got during my personal retreat. I came as an emotional mess but after 6 days I am leaving with love and joy in my heart and clarity in my mind."
– Nancy, Redway, CA
"It is so beautiful here – serenity abounds. The staff was friendly, helpful, but not intrusive – wonderful! I like the openness of the community, and the "take what fits, leave the rest" attitude. A wonderful experience. Loved sadhana. Thanks!"
– Alline, CA
"My time at Expanding Light was extraordinarily rewarding and peaceful. I wanted a lot of time alone to deepen my meditation practice, and to read, write, and walk, and Expanding Light met all of my expectations and more. It took me a little while to adjust to the "quiet," but I quickly got over that and worked myself into a pleasant daily routine, albeit only for 3 days. When I returned home, I still had 4 days off before I returned to work (today), and a couple of my co-workers told me how "relaxed" I seemed. I will always carry my experience with me. A little lady named Adrienne who was in the Karma Yoga program at The Expanding Light came across my path and told me that I'd probably leave there with the "Ananda Glow," and I do believe that happened. Thank you so much for everything."
– Caryn
Spiritualize Your Marriage
"I feel this is a wonderful program to anchor the love you first had and the reason you got married. Reliving the experience brought a whole new dimension back to our union forever together."
– Mark, (Marriage Counselor), Danville, CA
"Peaceful, wonderful people. Maybe the best thing about Ananda is the overall atmosphere of quiet peace and acceptance. Like coming home."
– Larry, Albion, CA
"Sincere and well run. The people working at the center are happy, and that is transmitted in everything that happens. The center is a magnetic place which made me feel welcome and at ease. The sincerity and centeredness of the facilitators created an environment of openness and relaxation."
– Dan, Fort Bragg, CA
"A treat to couples with any number of years of marriage under their belt. The program has helpful hints and practical techniques not only to use with your spouse but also for any other conflict you may have with anyone in your life, such as workplace, parents, friends, etc. The course leaders are very patient and very clear on their talks and discussions."
– Koral, Santa Barbara, CA
"I appreciated the meaningful tools my wife and I learned to deepen our connection to each other and God. The retreat helped us reinforce and nurture what is really important to our personal spiritual growth which, we are certain, will enrich our lives."
– M. C.
"If you would like to enjoy rest, relaxation, peace & lots of laughter – experience Ananda for yourself – you will love it."
– Michele
"The wedding ceremony was very moving and special to all of us attending. The reception dinner afterwards was lovely and great discussions abounded."
– Jeff, San Jose, CA
"This weekend gave my husband and I the opportunity to reconnect on a deeper level. Bringing spirituality into our marriage–instead of having it be something we are individually pursuing–gives us the foundation for deeper growth, both personally and together. This has been one of the most creative romantic getaways we've ever taken, and definitely one of the most inspiring!"
– CB, San Jose, CA
"It was a blessing to have a program concerning marriage that focused so in depth on relationship to God as well as to your spouse. It encourages development of a whole new dimension to life and marriage. I feel more spiritually nourished."
– Sally, Bloomington, IN
From Transition to Transformation
"The people are just beautiful here! Never have I arrived at a new place and felt so embraced and welcomed. Uma, our workshop leader was an absolute joy to listen to and work with. I arrived here hoping to discover a bit more about my spiritual journey and left feeling flooded with hope and determination!"
– Mark, SF, CA
Astrology, Psychology and Healing
"What I liked best about this experience is the wonderful feeling I had while I was here and the feeling I will be taking with me. You can tell someone how nice the people are and how good the food is, but until they come and see for themselves, they will never really know. I will recommend this program to everyone I know and everyone I meet. And you can bet on me coming back!"
– Beth, Reno, NV
Personal Breakthrough
"I was at first skeptical about the fingerprint reading, but Nancy's findings and interpretations resonated very deeply. I appreciated also that while she was very clear in presenting the spiritual teachings, I felt free to take only what felt right and fit with my life."
– Karen, Ph.D. Pasadena, CA
"Nancy is a treasure. Her laugh, openness, authenticity, and expansive spirit were a blessing. I enjoyed the amazing, intuitive leadership."
– Chris, Dallas, TX
"Nancy offers every opportunity for students. Her direction is useful and innovative. She is kind, concerned, available, and insightful. I could recommend this class to anyone."
– Vicky, Reno, NV
Vegetarian Cooking
"It's full of love and will nurture your soul. Perfect place to unwind and get in touch with your self."
– Deborah, Lake Tahoe, CA
"So comfortable and loving, open and accepting. I felt if I didn't know how to meditate, it was explained very easily and thoughtfully."
– Brenda, So. Lake Tahoe, CA
"I'm very glad I came to The Expanding Light. My original intent was to improve my eating habits and do yoga, but I found so much more–a real transforming experience."
– Elizabeth, El Portal, CA
"As a non–vegetarian with careless eating habits, I came with quite a bit of trepidation. Blanche is so well–informed and supportive of exploring alternatives and approaches that I was put at ease. Her essential ingredient of inviting the Divine into the kitchen has transformed my attitude already. Now all I have to do is practice. After a weekend of preparing meals for Expanding Light guests – I feel very confident to serve similarly healthy meals for my family. Thank you!"
– Barbara, Wilton, CA
For Seniors (no specific class)
"The Ananda program opened the door to my centered self. It was given to the Elderhostelers in a very professional way. Thank the entire community for their commitment to sharing their love for us in such an open, non–aggressive way. You are the greatest."
– Edward, Edgewood, WA
"The feeling of community – I felt acceptance from checking in through the last day – everyone smiles and truly means it! I liked best the feeling of not just an experience, but really being a part of the community for 5 very full days. The entire staff is well educated, cheerful, helpful, and live their life fully."
– Marcia, Granite Bay, CA
"This week has truly been a meaningful experience for me. I have been given hope that I can heal physically and grow spiritually. I have experienced a community where wonderful teachers were not only truly loving and caring, and made themselves accessible to our individual needs and actually lived what they taught. I am encouraged to continue with yoga and meditation and can see myself coming back again and again. This community is filled with very special people."
– Jerry, Berkeley, CA
"As a person with no yoga or meditation experience, this week has been a wonderful learning experience. I have learned things about myself that I hope will be carried over to my life at home, and help me to live a happier and more meaningful life."
– Carol, Yerington, NV
"This was a well rounded exceptional program that far exceeded what I expected. The instructors were able to adjust the procedures so that even a disabled person could participate. I hope to return. I am now at the age when I am searching spiritually and my eyes have been opened to a new adventure."
– Richard, Vashon Island, WA
"Coming to Ananda was and experience of expansion of consciousness. Daily I feel my faculties of awareness open up more and more. The atmosphere of total peace and love is like a taste of what the world was meant to be for mankind and a glimpse of the possibility that in fact we might be heading in the right direction. I will meditate daily for this."
– Laura, Bayside, CA
First–Timers' Weekend
"Coming to Ananda, I was able to focus on my questions and it brought more peace of mind. I enjoyed the community. It's hard when in transition to feel whole without people you know and care for around you. I found it here. The food was phenomenal!"
– Sabina
"Ananda is a true retreat with the relatively unique mission of nourishing souls in a non–denominational manner. Excellent instruction in connecting mind, body and spirit combined with excellent accommodations, great natural setting and some of the best air I've experienced in the matrix. Deeply generous and loving people are the content."
– Diane, Alameda, CA
"I came here to learn about Ananda Yoga®. In fact I learned so much more. I learned new ways to meditate, learned that vegetarian food could be prepared to taste delicious. I met others on a spiritual path like myself. This was empowering. I just wish others could experience this. It is beautiful. Keep up the good work."
– Campton, CA Campton, CA
"This weekend gave me an opportunity to experience yoga and meditation in a comfortable, inviting and supportive environment. Each activity was explained and we were expected to only do what was right for each of us. This has been a positive and valuable experience for me."
– Wendy
"I really didn't know what to expect. I only know that I needed it at this point in my life. I can honestly say that it got me in touch with who I am and what I need to do better in my life and relationships."
– Leonard
"For those who feel they are on the treadmill, this is the place to get off. One can stop, take a breath, relax, collect one's wits and reattach in another way."
– Blayne
"This retreat was just a tease/hint at what potential really lies out there for all of us. The staff lives what they teach and that makes the experience that much more meaningful. I feel inspired to continue on this path and know I will return again."
– Paula
"I am so grateful that I was able to learn more about how meditation could change my life. I plan to change my life and have started to do that already. After this program I will be a better more relaxed individual."
– Maxine
"It was a terrific experience! The food was excellent, the classes easy to follow, the accommodations comfortable. It provided good training, and I met many nice people."
– I.B., Lubbock, TX
"I had a wonderful experience at The Expanding Light. I know I am on my way to a spiritual journey that will fulfill all my biggest dreams. You have shown me the basics of yoga and meditation that will help me to have and experience a happier, healthier and calmer life. I look forward to my next visit."
– C. John, Vejallo, CA
"Uma is wonderful! She possesses a rare gift in her teaching abilities. She is both worldly and angelic. Her grace and ease touched me greatly."
– Dana, Trinidad, CA
"Uma definitely found her mission as a teacher – I've never experienced and instructor who was so thorough, intelligent, and insightful."
– Sharon, Hayward, CA
"Uma has an excellent way of simplifying the teachings so they are understandable. She is also very articulate and knowledgeable in the topic. That really helped to enhance my experience learning from her."
– Ingrid, Napa, CA
Spiritual Psychology
"It is a great blessing to have a place to go–where you can leave all your daily "stuff" behind, and be in a loving supportive environment that encourages and teaches seeing life with different eyes. It was time to get "unstuck." Many negative patterns continued to manifest in life for me – I needed to get out of my head and into my heart. This course has started the process for me. Seeing the whole picture (as best I can at this point) instead of the individual problems. Also it has started the integration of many of the pieces already known."
– Diane, Winnipeg, Canada
"The reason I came to Ananda was to do the inner work. I really think it important to find peace and direction in my life. Ananda's staff makes it easier to work for these goals. This has been a wonderful time. I've had time to reflect and to remember to be grateful for what God has provided. The positive re–enforcement from the staff helped me to reaffirm to myself that I have chosen a path that is good, positive, and one that reminds me to think about and work for others. The Expanding Light experience is one of the best gifts I've given to myself."
– Frank, Garberville, CA
"Savitri's giving of herself was above and beyond what I ever would have expected!"
– Linda, Scottsdale, AZ
"The workshop was a wonderful experience and gave me lots of tools to take home. The whole experience opened my heart and I feel changed forever."
– R.S., Borrego Springs, CA
"The staff here seems to 'walk the talk' and I frequently don't see that in other places. When they say 'the guest is God' they truly act upon that."
– Anne, Cambria, CA
"My week here at The Expanding Light has been magical! The energy here is extraordinary! The information and the people I was exposed to helped me greatly. It seemed that so much of what I was exposed to was so relevant to my personal issues at the moment. I learned a great deal and I will definitely be back!"
– D. G.
The Healing Power of the Chakras
"The gentle and loving and smiling staff, the homey comforting food and accommodations, the beautiful calming scenery, the vast amounts of knowledge and willingness to share were all great sources of joy during my stay here at The Expanding Light."
– Anna, LA, CA
"I came as a skeptic and am leaving a believer. I have had many wonderful and enlightening experiences here. The kindness, peacefulness and humor of your staff and fellow workshop attendees has made my stay memorable. I was very much in need of an attitude adjustment and I was able to make that adjustment with the loving energy that permeates Ananda."
– Nancy, Redway, CA
"The blending of ideas of all religions, and the "Universal Truth" has helped resolve a lot of conflicting deep personal issues..."
– S. V.
"Worth all the effort, money and time. A necessary revitalization for all! I would highly recommend it."
– Judy
"What stands out is the positive energy that is everywhere and the patience of the staff and work study people."
– John, San Antonio TX
"As an instructor I so appreciate how well designed the courses are. As a truth seeker, I so appreciate the vibration of love that is infused in the courses."
– Joan, Sacramento, CA
"The handout materials were very extensive. The teacher was the BEST, full of information, love, knowledge, and experience."
– June, Las Vegas, NV
"I really enjoyed my experience at Ananda. There are many things that Savitri did that I appreciated: going over meditation initially, singing and chanting for the chakras, her personal stories, all of the visualizations, and I loved our last concrete meditation with the chakras."
– Mary, Los Altos, CA
Spiritual Growth Programs Scheduled:
Spiritual Growth

Receive monthly news and inspiration.
Come a Day Early
Relax, Take a Walk,
Get a Massage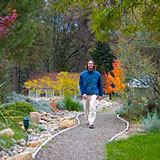 Stay an Extra Day, Relax,
Absorb Your Experience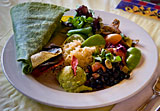 Three delicious and satisfying
vegetarian buffet meals are included
with the cost of your stay