Sacramento Airport Pick-up and Drop-off
A New Airport Ride Service: Go With God!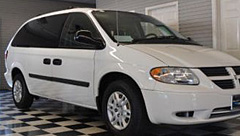 The Expanding Light now has a nice Grand Caravan. We are making scheduled airport runs to pick up and drop off guests at a reasonable cost. If a ride is available at the beginning or end of a program you are taking, the option to select a ride will appear when you reserve online. If you have already made a reservation and you wish to add an available ride, please log into your account, click 'Current Reservations' and add a ride by clicking on the Rides link beside your reservation.
This is not a shuttle service that you can call to book a specific day and time for a ride. For on-demand pick-up or drop-off click On-Demand Shuttle. We will do our best to accommodate you, but we cannot guarantee service. How many we can carry is also limited, so don't delay!
Driving time is about 2 hours. Tipping is not expected. The cell phone number for the van is 530-205-0940.
For Pick-ups: As soon as you purchase your airline tickets, please log into your account and update the flight information or contact us. You must have a cell phone number listed in your account profile.
If you have any questions, please call 800-346-5350 or 530-478-7518
Listing of rides scheduled:
Click on details of the drop-off or pick-up that you are interested in to find out how many rides are still available, times, prices and other information.
Weather
Check Weather Report from Accuweather
We're located at a 2500-foot elevation in the foothills, not the mountains. We sometimes get a little snow, but winters are generally mild. In January it's common to have high temperatures in the 60s. We can't promise particular weather when you visit, but it is very rare for snow to cause travel problems.
About Us