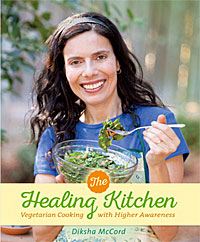 Vegetarian Cooking Online for
Health and Vitality
Online Cooking Show with Diksha, the cook who developed The Expanding Light's much loved recipes.
An online vegetarian cooking class.
At The Expanding Light Retreat we offer our guests the healthiest, most delicious vegetarian meals possible. In our online vegetarian cooking class we continue this tradition by sharing new and complete, easy-to-prepare meals with you -- each one divinely inspired, nutritionally balanced, and naturally low in fat and sugar.
You will love this vegetarian cooking class whether you are a vegan, vegetarian, or omnivore!!.
Be inspired - be healthy!
Change the way you think about food and how you prepare it
Learn how to cook nutritious and satisfying vegetarian meals in the comfort of your own home - when it's convenient
Find out how easy and fast it can be to make fulfilling meals of fresh, natural ingredients
Discover how cooking and serving healthy food to family and guests is a high form of spiritual service
See how a positive attitude while cooking and a beautiful presentation are spiritually uplifting and nurturing
Timesaving ways to create uplifting and delicious vegetarian meals
Bring an international flair to your everyday cuisine
You can access any portion of the vegetarian cooking class any time you wish, and revisit as often as you like. Choose when it is convenient for you!
You'll Receive
48 short Cooking Basics videos [2-8 minute average length] including:
Cooking Grains gluten and gluten free
Cooking Beans, Peas, and Lentils
Cooking Vegetables
Cooking Tofu and Tempeh
Simple Flavorings, Sauces, and Dressings
Use of Knives in Cutting Vegetables

These videos demonstrate:
Using a pressure cooker to cut cooking time in half !
Using spices and condiments to enliven natural flavors
Cooking less-known protein-rich grains such as quinoa
and amaranth
And much more

Average video is 20 minutes for one complete meal
Easy to print recipes with step-by-step instruction
22 Basic Recipes - examples:

Garbanzo Marinade
Mung Bean Soup
Herbed Tofu
6 Introductory Articles - including:
Types of Grains and Cooking Technique!
Types of Vegetables and Cooking Techniques
Tofu and Tempeh and Cooking Techniques
Your Vegetarian Kitchen - Videos and Articles - including:
Introduction to a Vegetarian Diet
Setting up your Kitchen
Prayers Before Eating
A downloadable resource library of helpful articles by our retreat chefs. Examples of what is available include:
Eating Meat versus Vegetarianism
Yogic Attitude Towards Diet (inspired by Paramhansa Yogananda) Spiritualize your meals through prayer and affirmation
Properly Combining Foods
Each Four Season's Meals & Specials
Fall Meals includes special Thanksgiving and Christmas menus, and Teas
Winter Meals includes special Indian menu, and Yeast Breads, Quick Breads
Spring Meals includes special Easter menu, and Gluten Free Desserts, Sprouts and Pizza
Summer Meals includes special 4th of July menu, and Summer Salads, Smoothies, Summer Drinks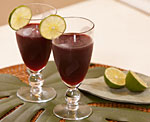 47 short Cooking Basics videos
22 Basic Recipes
6 Introductory Articles
Your Vegetarian Kitchen
Get Diksha's companion book The Healing Kitchen .
Be Inspired, Be Healthy!
Online Learning
Vegetarian Cooking for Health and Vitality includes many free cooking related articles and special promotions. You will be able to subscribe by the season or for a full year.
" I am loving this course. Not only am I learning something new with every session, I find it fun and relaxing to watch Diksha whip up another beautiful meal every time. Sometimes I watch with no intention of cooking anything at that moment but to be inspired ."
- Lynn
See this Free Webinar with Diksha
Introduction to Yogic Diet and
proper eating.
Click the YouTube below for a sneak preview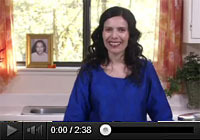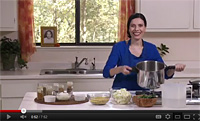 Split Mung Soup with Herbs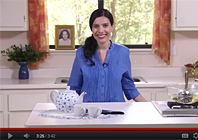 Making a Digestive Tea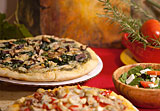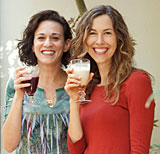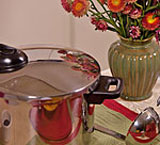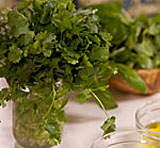 Global Kitchen
Create Healthy, Flavorful Meals with an International Flair