Guest Groups at Gaia House Retreat
Gaia House Retreat is a unique 2-story, custom designed house located at Ananda Village in Nevada City, California. We are about 2 hours from the Sacramento Airport. This very special house is made of rammed earth with tall ceilings and lots of light in all rooms. There is a wonderful flow to all the rooms and the views outside extend the energy of the house further. The house has 7 bedrooms and can sleep 15 adults, and the living room and teaching rooms can accommodate more than 35 total visitors.
Outstanding features at Gaia House Retreat
A welcoming 2-story layout provides ample and flexible first floor space with:
a beautiful kitchen
expansive dining area
multi-use living areas
separate first floor 'teaching room' with dual aspect and tall ceilings
second floor has 6 uniquely furnished rooms, some with shared baths, and three with en-suites bathrooms.
"Thank you from the Chaplain Program of Unity Center of Davis California for an absolutely fantastic weekend at Gaia House Retreat. The peace and tranquility emanating from the grounds and people were the perfect backdrop for our retreat/training. We enclose a gratuity in thanks for the welcoming Spirit of Gaia House and The Expanding Light Retreat and the transformation you are bringing to our planet and people. Again, thank you. We all hope to return soon."
— Unity Center of Davis, CA.
Group stays include:
Extraordinary group leader support
Top-rated guest services, small boutique, small village market
Affordable pricing
Access to most of our 700 acres including holy shrines
Uplifting meeting rooms/spaces, including our Living Wisdom Center for large events
Delicious vegetarian meals at the Expanding Light Retreat with advanced reservations for the group
Optional attendance at morning yoga and meditation
Explore our peaceful gardens and lakes
Connection with the joyful energy which permeates our community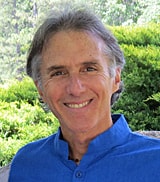 Get ready for an extraordinary group experience!
Thank you for your interest in our guest group accommodations and services at the Expanding Light Retreat and Gaia House Retreat. Please contact contact Krishna Das LoCicero, Guest Groups Manager, to share about your group event, plan a free overnight stay with guided tour, and to get a pricing quote.
Groups at Gaia House may want to utilize the many services offered at the Expanding Light Retreat about a 5-minute drive away:
Large and inviting dining room serving 3 delicious buffet-style, vegetarian/vegan/GF meals each day
A welcoming Guest Services building with reservations desk, quiet lounge, fun boutique
Use of our inspiring octagonal Teaching Temple ideal for group gatherings, ceremonies, closing circles
Pre-arranged use of the state-of the-art Living Wisdom Center at Ananda Village. Ideal for larger group events, conferences, music events
Pretty outdoor piazza for dining and congregating with garden views to our Temple of Light
Ample parking including charging stations
We are a smoke and drug and alcohol free community. Only guide animals allowed.
No fires, candles or incense allowed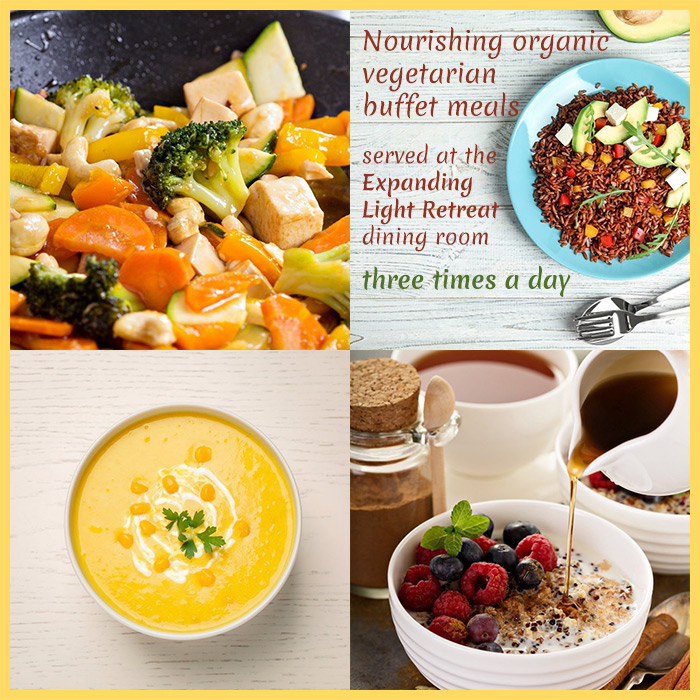 Click on each photo for a larger image
Shared spaces
Flower Suite: A lovely bedroom with private deck, queen bed, and ample private bath with shower and tub. Ideal for group leaders who like some private space.
Tree Room: Facing west this room has two twin beds, private bath with shower, and ample closet.
Bird Room: has two twin beds with ample closet. Small vanity with sink, shower and tub.
River Room: offers peaceful views to the northeast. Two twin beds, a large closet, with shared bath with shower.
Star Room faces the bright southeast, and offers two twin beds, large closet, and shared bath with shower.
Mountain Room has a private bath with shower, two twin beds, and an ample closet.
Meeting Spaces at Gaia House
Gaia House has a large living room/lounge area with easy to move furniture to create the best arrangement for your group. In addition, there is a dedicated space at the end of the house with plenty of space for meditation and meetings. A door leads directly into the gardens and we provide ample folding chairs, yoga mats & pillows, and a whiteboard for you to use as needed. There is a seperate, full bath directly outside the suite for easy access.
Additional Meeting Spaces at Ananda Village: A modest additional charge may apply for additional meeting spaces.
Ananda Village, the location of Gaia House Retreat, has additional spaces where guests of Gaia House may hold meetings or gatherings, with advance reservation. These spaces allow room for more guests than Gaia House can hold. For example, Gaia House sleeps 12-15 guests. Additional group members can stay at the nearby Expanding Light Retreat, up to a total of 39 guests. Then all group members can meet at any of these locations:
Living Wisdom Center: New sustainable construction. There is a State-of-the Art presentation hall with top-quality acoustics ideal for music presentations, dance, and for recorded talks. Seats up to 140. Various side rooms for smaller break-out sessions. Parking for guests. A 5 minute walk from Gaia House Retreat. No smoking or alcohol allowed at Ananda Village.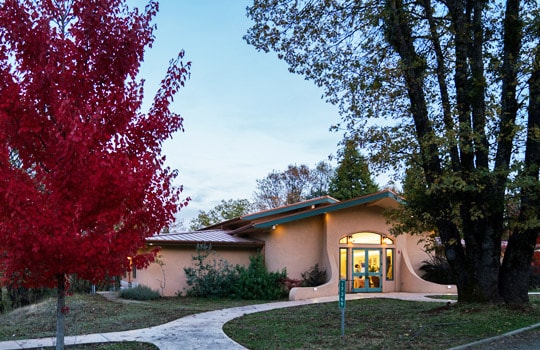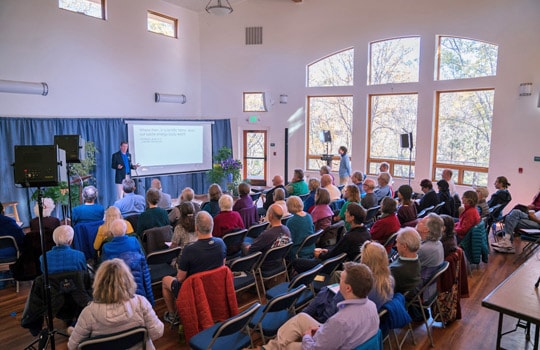 Hansa Temple: Located at Ananda Village, about a 3 minute drive from Gaia House or a pleasant walk. A main temple for Ananda Village. There is an altar with photos of the Kriya Yoga Master's of the Ananda lineage. A very comfortable room for floor or chair seating. A raised dais at front of room allows for nice speaker location. Ample room for projector and screen for presentations. Front entry foyer has plenty of room for coats and shoes - no shoes in Temple. Downstairs has two bathrooms and sink. Can seat 120 comfortably.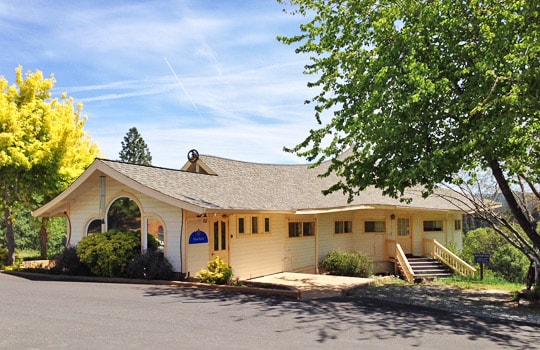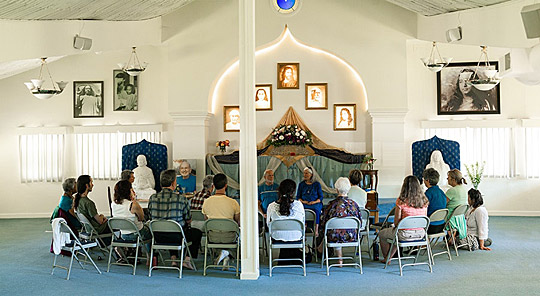 Serenity Lounge: Located in Serenity House, The Expanding Light's larger guest accommodation housing. Room has a sofa, coffee table, chairs, and dining table, with extra folding chairs, blankets & pillows. Sink and tea service. Holds 25 seated.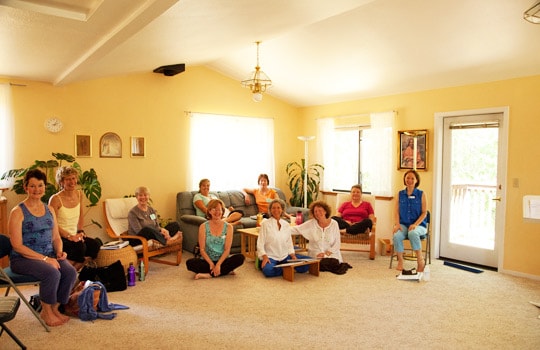 Notes:
Pricing to attend open programs that we run at Gaia House is set by the program. We are able to fashion a custom program for you if you wish. Additional pricing may apply but can be arranged contact us.
Amenities
4700 sq. feet of space
Separate room for classes/yoga
Wireless internet
AC over summer
Towels and linens supplied, laundry facilities also available
Family-style dining room and fully equipped kitchen
Large living room with re-arrangeable furniture
Outdoor fire pit and seating
Organic coffee, tea, and fruit available throughout the day
Dedicated to serving our guests and embracing them with the harmonious vibration that is Gaia House...