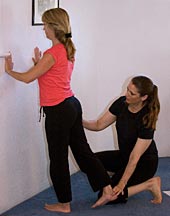 Private Yoga

Therapy sessions

Private Yoga Therapy sessions are available by appointment. Today, yoga is widely recognized and used as a therapy for overall health as well as for specific ailments.

Yoga therapy can help bring relief and healing from such issues as: disorders of joints, back, nervous or digestive system; high blood pressure; fibromyalgia; insomnia; and moodiness. Our yoga therapy staff, Maitri and Mangala, will help you develop a routine of easy yoga postures, breathing exercises, and relaxation/visualization techniques suited to your individual need.

Please call 800-346-5350 for an appointment.