Sample Schedule

Ananda Holistic Health Retreat
(Subject to Change)
Sunday

6:30pm
Dinner
7:30
Introduction and Inspiration

Monday

6:30am
Sadhana (Spiritual practices: Energization Exercises, Yoga Postures, Chanting, Meditation)
8:30
Breakfast
10:00
Overview of Radiant Health & Activating the Power of the Mind for Wellness
11:00
Individual session with coach - optional
12:00pm
Affirmation Walk
12:30
Lunch
2:00-3:30
Learn How to Meditate
4:00
Energization-focused Sadhana
6:30
Dinner
7:30
Free evening to study the Holistic Health Manual

Tuesday

6:30am
Sadhana
8:30
Breakfast
10:00
"The Brain: Engineered for Transformation" & discussion on Changing Habits
11:30pm
Affirmation Walk
12:00 pm
Chakras meditation
12:30
Lunch
2:00
Affirmations & Visualizations - Outdoor Experiential, weather permitting
4:45
Ananda Yoga-focused Sadhana
6:30
Dinner
7:30
Healing Prayers

Wednesday

6:30am
Sadhana
8:30
Breakfast
9:45
Vegetarian Kitchen
12:00pm
Guided Meditation
12:30
Lunch and free time
4:00
Affirmation Walk
4:45
Sadhana
6:30
Dinner
7:30
Restorative Therapeutic Yoga

Thursday

6:30am
Sadhana
8:00
Affirmation Walk
8:30
Breakfast
9:45
Visit Crystal Hermitage: Clean Living
12:00pm
Purification Ceremony/Nature Meditation
12:30
Lunch
1:30
Individual sessions with coach - optional
4:45
Pranayama-focused Sadhanal
6:30
Dinner
7:30
Informal get-together in an Ananda home

Friday

6:30am
Sadhana
8:00
Affirmation Walk
8:30
Breakfast
10:00
Wrap-up: How to practice at home
12:00pm
Meditation
12:30
Lunch - Course ends on Friday in May; in September a 6-day version will be offered
Daily Meal times: Breakfast (in silence except on Sunday)- 8:30 A.M. • Lunch- 12:30 P.M. • Dinner- 6:30 P.M *
Next Steps:
Ananda Holistic Health Retreat
Please know we cannot accommodate people with chronic or acute physical or mental diseases that seriously limit function. Please phone us at 800-346-5350 if you have questions about the program's suitability for you.

Prices are all-inclusive and cover accommodations, meals, classes or activities, and course materials.
Call 1-800-346-5350 or e-mail us.
Costs (LRH)
Costs are on a per person basis.
Tent
RV
Standard
Shared
Standard
Private
Deluxe
Shared
Deluxe
Private
$735
$930
$1235
$1155
$1570
Ananda Holistic Health Retreat - Sample Schedule starts the afternoon of the first date listed and ends with lunch on the last date. It's ideal to arrive before 4 pm, if you are able to. That way, you can join in the afternoon session of guided yoga postures and meditation, which begins at 4:45. Dinner is at 6:30. The first real gathering of your group is after dinner. Please see:
"This is a class that can change your life in ways you could never imagine. I was not just given instructions on the subjects, I lived them, and that made all the difference."
—Bob, California
"Very comprehensive - brought everything together—spiritual life, and how to integrate it with daily life, in a way that works."
—Beth, California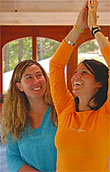 "There are thousands of 'one-size fits all' plans for improving health out there, but unless a plan is designed to fit an individual's life, it won't take."
—Dave, California