Pranayama for Meditators

Keys to a Quiet, Powerful Mind
Not scheduled at this time.
with Nayaswami Gyandev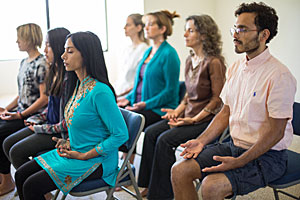 While this workshop is accessible for pranayama beginners, experienced practitioners will find fresh insights and inspiration—as well as effective tools for refining their practice. And Kriya Yoga initiates will find this workshop invaluable for their Kriya practice.
You'll enjoy:
Special exercises (including simple asanas) for easier, more natural breathing
Pranayama techniques to help you quiet your mind and keep it focused
A personal consultation to help you overcome challenges with pranayama and/or meditation
Going beyond working with the physical breath, to the true purpose of pranayama practice: controlling the life-force, an invaluable tool for higher consciousness as well as outward accomplishment
A menu of pranayama practices from which you can choose to meet your needs in any given moment
Plenty of practice time for both pranayama and meditation
Prerequisite: Participants must already be practicing meditation.
Watch this Pranayama Basics Video with Gyandev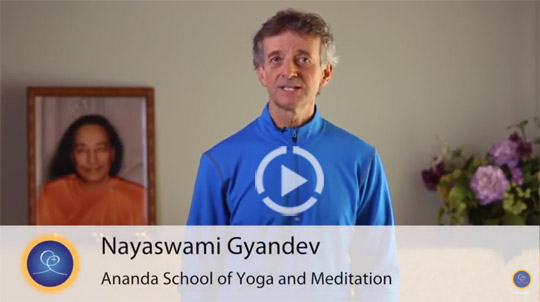 Your instructor for the weekend is Nayaswami Gyandev, director of Ananda Yoga, main instructor for Ananda's Advanced Pranayama course, and creator of the 2-CD set, Pranayama for Deeper Meditation, which participants will receive as part of their weekend.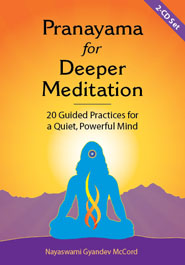 "The breathing and energy work allowed me to go deep into meditation unlike ever before. I loved it." — A.C., Sparks, NV
"What a wonderful surprise to discover how deep the breathing practices truly are, and the depth of exploration possible by engaging the bandhas. What in the past had looked to me as such an outward practice, was really a pathway to inward experience." — J.S., Charlestown, RI
For more information, please send us a Question or Comment:

Receive monthly news and inspiration.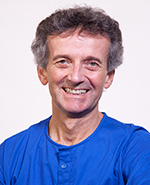 Co-Director of the Ananda Meditation® Teacher Training, Director of Ananda Yoga®, Level 2 Ananda Yoga teacher, E-RYT 500, Raja Yoga Teacher, Spiritual Travel Host, Writer and Lecturer, Ananda Minister
What is a nayaswami?
Combining a fun-loving spirit, keen insight into the spiritual life, and genuine warmth, Nayaswami Gyandev makes the inner quest seem both natural and doable. Since 1983 he has taught Ananda Yoga to thousands of students and trained hundreds of teachers around the world, often forging deep and lasting bonds of friendship and inspiration.
See all programs, articles, and full bio of Nayaswami Gyandev.
No dates scheduled for Pranayama for Meditators at this time.
Prices are all-inclusive and cover accommodations, meals, classes or activities, and course materials.
Pranayama for Meditators starts the afternoon of the first date listed and ends with lunch on the last date listed. Check-in is anytime between 1:30 p.m. and 4:30 p.m. at our Front Desk. Your room will be available by 3:00 p.m. Dinner is at 6:30. The first gathering of your group is after dinner.
Please see:
You can add extra personal retreat days before and/or after your program. Check availability and costs for the days and accommodations that you require.
Pranayama for Meditators starts the afternoon of the first date listed. It's ideal to arrive before 4 pm, if you are able to. That way, you can join in the afternoon session of yoga and meditation, which begins at 4:45 pm. Dinner is at 6:30. The first real gathering of your group is at 7:30 pm. If you need to arrive here after 5 pm, that's fine, but it helps us if you let us know at 800-346-5350. We can also put aside a dinner for you if you need to arrive after 7 pm. The program ends with lunch on the last date. Please see our Daily Schedule.
See Transportation and Directions whether you are coming by plane, car, bus or train. Our Frequent Questions page answers many of the questions you might have about How to Go on Retreat.