Create Your Life Series with Mantradevi
Reinvent, Discover, Go on an Inner Adventure...
Develop a dynamic way of living, for happiness, peace, tranquility, courage and confidence in all areas of your life.
Discover new and illuminating aspects of who you are
Learn to live from your deepest self
Identify and change what needs to be changed
Expand your capacity for joyful, fruitful living
Each retreat in the Create Your Life Series focuses on a different facet of life, giving you the opportunity to develop strength and clarity in all areas. You will learn to create structures that naturally pull to you the results you want in life. You will gain tools to reinforce your inner strength and deepen your intuition. Meditation, whether new to you or already in practice, will be presented in fresh ways as a tool and mainstay for staying calm and centered.

Take the vagueness out of happiness. Attain inner contentment in all areas of life.
Make your reactions and emotions work for you, rather than against you.
Discover courage, calmness and confidence that you didn't know you had.
Learn to intuit the right direction to take, whether big or small, important or mundane, at all times.
Deepen and harmonize your relationships, and create a deep and satisfying life.
Each retreat stands on it's own and you can take them in any order. Each retreat will reinforce your inner strength, clarity your mind and deepen your intuitive ability. Each retreat will take you further and deeper into finding the keys to unlock your own specific treasure trove toward Self-realization.
This Series is led by Mantradevi. A long-time teacher, Nayaswami Mantradevi has taught hundreds of people how to access their own inner keys to happiness through yoga, emotional healing, creativity, and meditation. In these courses she draws together the best from her years of experience in teaching and counseling.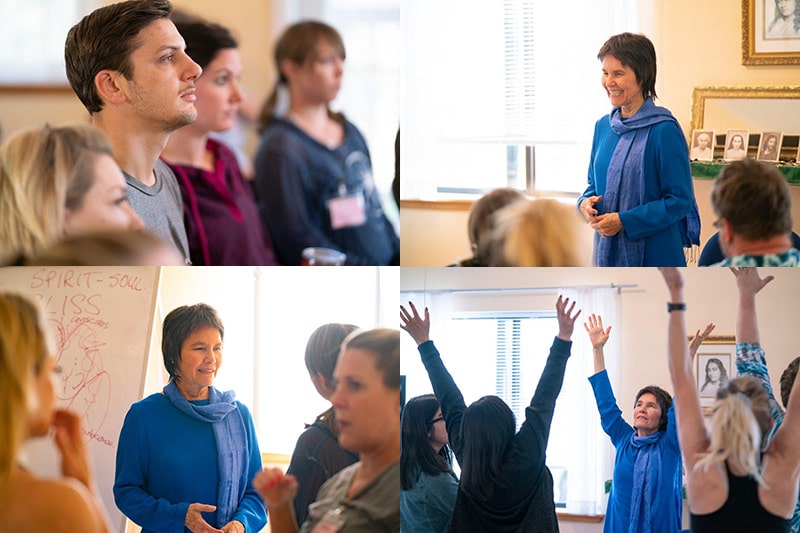 Programs in this Series
View our entire Calendar >
Ananda is a worldwide movement to help you realize the joy of your own higher Self. It is based on the teachings of Paramhansa Yogananda and was founded by his direct disciple Swami Kriyananda in 1968.
Learn More...

CONNECT
14618 Tyler Foote Rd
Nevada City, California 95959
Toll free 800-346-5350
Outside US 530-478-7518
SUBSCRIBE
Receive uplifting emails with inspirational content and news about our retreat programs, travels, and trainings.