Deepen Your Divine Connection

During this experiential weekend we'll clarify and discuss our relationship with the Divine and how to deepen it.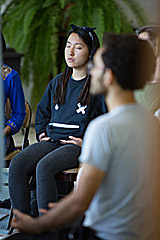 We will explore together how to:
Deepen your meditation practice
Align with your Higher Self
Experience a greater sense of self
Sharpen your intuition
You'll receive:
Practical tools to improve your clarity of mind
Daily aids to making better choices
Tips to handle challenging situations
3 Tips for Deepening Your Divine Connection
1. At the end of meditation, focus for a few minutes on the quality of joy—the joy of your own being that is not conditioned by any outward circumstances. Feel strong and complete in yourself.
2. During the day, when you feel challenged, touch your right index finger to the point between the eyebrows, the seat of higher consciousness, solutions, and joy.
3. Try to see some good quality in everyone.

More details about your reservation for Deepen Your Divine Connection

or e-mail or call us at 1-800-346-5350
Costs (DYDC)
Costs are on a per person basis.
Tent /
RV
Standard
Shared
Standard
Private
Deluxe
Shared
Deluxe
Private
$252
$318
$450
$410
$592
Prices are all-inclusive and cover accommodations, meals, classes or activities, and course materials.
Deepen Your Divine Connection starts the afternoon of the first date listed and ends with lunch on the last date. Please see: