Karma Yoga Testimonials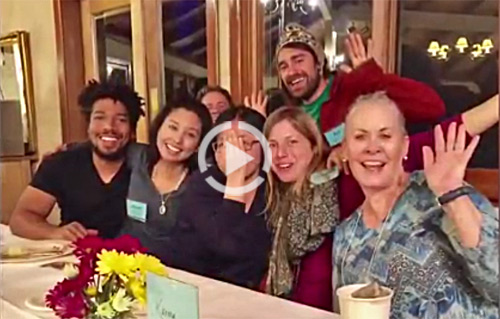 Watch Akemi's Karma Yoga Adventure
"[The Karma Yoga Program] has allowed me to open my heart to all that I meet and everything I do. The people I have met, the teachings I have come to understand, and the love that has grown within me are truly blessings from above."
– Past attendee
"The Karma Yoga Program has been a pivotal point in my life. Working with people who are here to serve God and the collective whole is truly inspirational. It has given me the opportunity to feel the flow of this amazing community. I'm indebted to this place."
– Michelle M., Eugene, OR
"I can't begin to express in words how grateful I am for the past three months with you blessed souls. Although I've always been drawn to spiritual matters, for the first time in my life I feel that I have truly found myself. I am no longer alone, and I know what I am seeking. Now I have people to share this joyful journey with and help me along the way. This is certainly the greatest blessing, and I can't thank you enough."
– Shana S., Verona, NJ
"The Karma Yoga Program at Ananda's Expanding Light was one of the most positive, life-changing experiences of my life. I never expected the transformation to be as powerful and to affect me on so many levels, in so many ways. Learning how to incorporate and apply ancient spiritual teachings into my daily life in a practical and integrated way has been invaluable. I am deeply grateful for the opportunity to be a part of such an inspiring spiritual community-and now family."
– Rachel, Los Angeles, CA
I had a wonderful experience at The Expanding Light Retreat's Karma Yoga Program. I feel that I have found a true spiritual home and I will return again and again.
—Avril
Before joining the Karma Yoga program, I had participated in the Yoga Teacher Training as well as Meditation Teacher Training here at The Expanding Light. Both YTT and MTT were amazing and transformational. Yet, in my experience, nothing has positively transformed my consciousness as much as the Karma Yoga program has. It has influenced me in two ways. First, getting in the flow of Karma Yoga shifts has helped me to become more aware and present in the moment, which has allowed me to be out of the thinking mode and in a state of joy more often throughout my days. Secondly, by being in a position of serving others through simple tasks, Karma Yoga has been a great tool for me to release the hold of ego on me. In the past, as well as during the teacher trainings here, I've concentrated too much on succeeding and standing out. Karma Yoga shifts have made it easy for me to shift my focus more on being in the divine flow of unity and merging with the group, rather than standing out. This feeling has intensified my happiness. Spiritually, I feel that I've grown tremendously through this process.
Outside of the shifts, the various activities and classes on the teachings of yoga that we have are fun, uplifting, and invaluable for spiritual growth. I enjoy the variety of teachers and the types of content that we have. The twice daily sadhanas, i.e., energization exercises, yoga postures, and meditation, are a great way to refresh and reconnect, to stay motivated, and to develop a long-term habit of daily spiritual practice. At the end of the day, it is the great people, both the staff and other Karma Yogis, as well as the high vibrations of Ananda Village, that make this experience truly special and unique.
—Hesam, Los Angeles, CA
Karma Yoga


What aspect of the Karma Yoga Program has influenced your life most deeply?
Find Out...

Receive monthly news and inspiration.