Karma Yoga


What aspect of the Karma Yoga Program has influenced your life most deeply?
Find Out...
"The Karma Yoga program has been a profound blessing on my life, imprints of which will nurture my soul till the time of my departure from this world. Feelings of compassion, thoughtfulness, devotion, kindness, and love that were masked by worldly delusions have suddenly resurfaced.
"Healthy and delicious vegetarian meals infused with divine love have done a miracle on my perennial health problems of migraines, heartburn, and fatigue. Yoga postures and meditation have been an immense source of inspiration and joy.
"I came to Ananda absolutely confused and leading a reckless life, typical of many people in present society. Three weeks later, I feel renewed strength and courage, a body in harmony with mind, and a vision for a glorious path. Now I truly understand my purpose in this life."
– Aditya J., San Jose, CA
"I'm so grateful to have the opportunity to join the Karma Yoga family. Not only was this the spiritual adventure I was seeking, but it has been so much more! I am forever changed by the peace, the connection with God, the meditation, the community, and so much more that I will forever carry in my heart." – Jeremy
Karma Yogi's Photo Diary...
Guided morning sadhana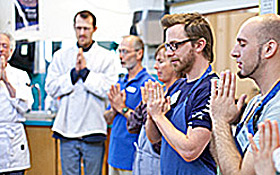 Blessing the kitchen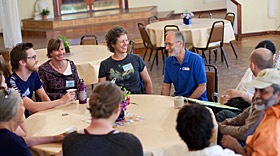 Morning scheduling fun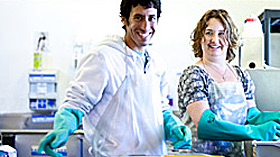 Breakfast clean-up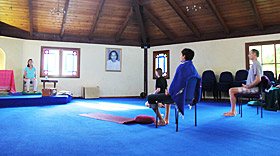 Short Meditation before ...
Lunchtime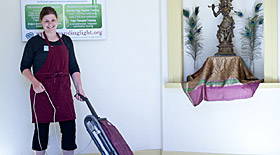 Afternoon service with joy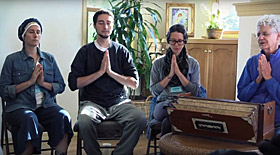 Sadhana - spiritual practices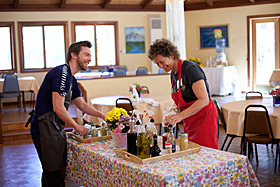 After dinner service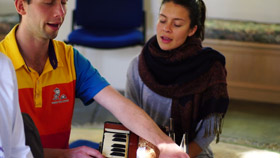 Evening fellowship