Ananda Village Internship Program
Experience Living and Serving in the Heart of Ananda Village
One of the most successful Cooperative Spiritual Communities in the World.
Make yoga and meditation part of your daily life. Experience the balance a fully integrated life gives, where body, mind, spirit and feelings are all given equal focus.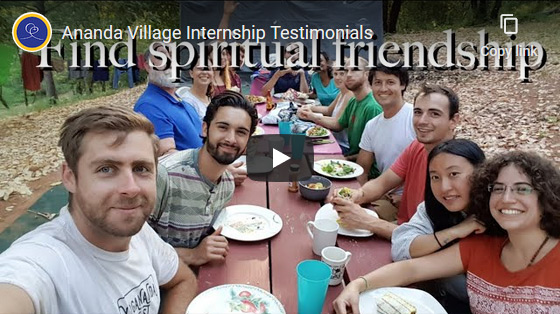 Learn more about Ananda Village Internship
In the Ananda Village Internship Program you will :
Apply your skills and learn new ones in farming, gardening, construction, cooking, administration, and more!
Explore Paramhansa Yogananda's Path of Kriya Yoga
Deepen your spiritual life and enhance your meditation and yoga practice in the company of like-minded souls
Experience communal living at the Internship campsite and be immersed in a beautiful nature setting
Enjoy friendship, chanting, spiritual classes, and dynamic community events
Some of the dynamic, fun, and interesting places Ananda Village Interns can serve at Ananda Village include, but are not limited to:
Ananda Farms
Ananda Village Sustainability Management
Ananda Communication, Web Services and Management
All interns will at first participate in the Karma Yoga Ashram Program before receiving eligibility to enter the Ananda Village Internship Program. The Karma Yoga Ashram Program provides a foundation to Ananda's spiritual path - energization exercises, Hatha yoga and meditation, and most of all the spirit of selfless service. Therefore, 2-4 weeks of Karma Yoga is a prerequisite for participating in the Ananda Village Internship Program.
Cost & Details :
You can choose when to attend within the duration of the program (June 1-October 1), but the minimum length of stay is one month. The program fee $400/month covers:
Three vegetarian meals/day
Campsite utilities (except laundry)
Twice-daily sadhanas that typically include Paramhansa Yogananda's Energization Exercises, Ananda Yoga and Ananda Meditation
Opportunity for 1-1 spiritual guidance and support
Classes on the yogic teachings of Paramhansa Yogananda
Sample Internship Schedule (Monday-Friday)
Interns serve 24hrs/week Monday-Friday and start their day together with a group sadhana practice and share all meals together.
6:00 Wakeup
6:15-8 Daily sadhana (energization, Ananda Yoga, chanting & meditation)
8:00 Breakfast
9:00 Morning service shift (some day shifts will start at 7:00)
12:00 Noon meditation
12:30 Lunch
1:30 Afternoon service shift
4:30 Free time or class
6:30 Dinner (group meal cooked by interns)
7:30 Evening program or free time
Weekends:
Mostly free time or fun group outings, we might also have shifts at the local farmers markets selling Ananda Farm produce or things we've made ourselves. In the past, intern adventures have included an all night moonlight hike, weekend trip to Ananda Valley Farm in Half Moon Bay and seclusion time at Ananda's Meditation Retreat.