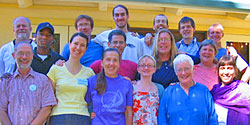 Apply for
Karma Yoga Program
Have questions? Please don't hesitate to contact us.
Once your application is received and reviewed, we will contact you as soon as possible regarding your acceptance into the program. Each month in Ananda's Karma Yoga Ashram Program is $800. *We request that your first stay in Ananda's Karma Yoga Ashram Program is a minimum of two weeks. (Two-week cost $650.) Additional time in the program-up to three months-is possible upon approval at an additional $800 per month.
This fee includes the books Lessons in Meditation by Jyotish Novak and The Art and Science of Raja Yoga by Swami Kriyananda, your room in Seva House, three wholesome vegetarian meals a day, twice daily sadhana and the opportunity for one on one guidance and support.
To book your reservation we require a $200 deposit, which is credited toward your stay.
Cancelation Policy:
Please let us know at least a week in advance if you need to reschedule your visit. We appreciate as much advance notice as possible. If you cancel your stay less than a week within your start date, your deposit may be forfeit.
We also require that you have Medical Insurance in order to participate in the Karma Yoga program. Applicants must be at least 18 years old.
To Complete Application:
To apply for Karma Yoga, if you have not already done so, please fill out our Online Medical Questionnaire first and then our Online Application. You will be asked to either login or create a new user account. In the application you will be asked for either a resume or work history from the past 10 years and two references (names and phone numbers only).
Please call 1-800-346-5350 ext. 7090 (or 530-478-7518 outside USA & Canada) if you have any questions.
"I can't begin to express in words how grateful I am for the past three months with you blessed souls. Although I've always been drawn to spiritual matters, for the first time in my life I feel that I have truly found myself. I am no longer alone, and I know what I am seeking. Now I have people to share this joyful journey with and help me along the way. This is certainly the greatest blessing, and I can't thank you enough."
– Shana S., Verona, NJ