What aspect of the Karma Yoga
Program has influenced your life
most deeply?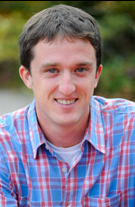 I came to the Karma Yoga Program to deepen my sadhana
(spiritual practices) and to spend more time at Ananda Village. After almost two months in the Karma Yoga Program I truly learned the joy of service, and made many lifelong friends. I would say the most important thing I learned was How to serve God and my Guru, Paramhansa Yogananda in everything I do. No matter how menial the task, every action can be done with devotion and care, and Divine Mother is always with us.
Currently an intern at the Living Wisdom School in Palo Alto, Adam has been practicing yoga and meditation for over two years and has lived in the Ananda Mountain View community. He enjoys visiting The Expanding Light at Ananda several times a year.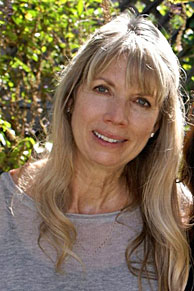 I began meditating when I was 16 years old and never
stopped. I always understood the laws of attraction and the power of manifestation, and knew that as much beauty that I enjoyed creating in the outer world, my inner world was far more important.
"The Expanding Light's Karma Yoga Program has been a way for me to deepen my Meditation practice. Meditation for me is not just about sitting in stillness; it is also a walking meditation of being acutely aware of every action, word and most importantly, self responsibility that draws to me every circumstance in my life.
"Stillness, Meditation and Yoga are powerful tools to selfawareness and reflection to develop inner peace. I love being a Karma Yogi!"
Interior and landscape designer Ann lives in Napa Valley and San Diego. Throughout her career, Ann always feels to call in the Divine to assist her in every project and "This never fails me" she says. Her favorite ways to serve are to help coach in schools, help others create beauty in their surroundings, and assist Ananda as a Karma Yogi.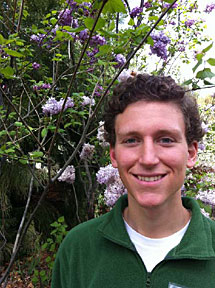 Before I came to Ananda, I knew that I wanted to devote
my life to God. What I didn't quite understand was what that looked like in daily life. I strongly wanted to meditate, but found it a great challenge to have a steady spiritual practice while in the military. Being in the Karma Yoga Program helped me to develop a daily practice of meditation, and to realize that all activities when done with an attitude of non-attachment and self-offering become a very important part of sadhana.
"The Karma Yoga Program offers many inspiring ways to bring spirituality and a deeper sense of joy into every aspect of life. I feel that the greatest blessing of being in the Karma Yoga program was the opportunity to attune more deeply to Ananda's lineage of great masters, to have fellowship with devotees, and to be able to practice the presence of God through service."
Steven grew up in Maine and after graduating high school joined the Marine Corps. He spent the past four years since then mostly stationed in Hawaii, intermittently traveling for training operations and deployments. It has been about two years since he first came upon the teachings of Paramhansa Yogananda. "My goal, "Steven says, "is to become a resident at Ananda Village and spend the rest of my life seeking God and serving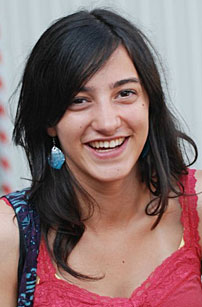 The Karma Yoga Program is rich in positive
influences and creates amazing changes for the individual. Being at The Expanding Light for this full program gave me the opportunity to meet and create lasting friendships with truly incredible individuals who restored my faith and love for people.
"Most importantly the environment of Ananda and the spiritual daily practices they teach encouraged me to focus and build a foundation for my spiritual life.
"If you are in a place where things are not working for you and you want something more, then I would definitely endorse this program. If you want to become a more grounded happy person, or to build a personal relationship with God, or to find a place that is filled with encouragement and spiritual sisters and brothers, then just as I have found out, the Karma Yoga Program is made for you."
Christina lives in Vancouver BC, and plans to study holistic healing in the future. She has been part of the Ananda community since 8 years old and has been continuing yoga and meditation for 5 years. She plans to move to one of the Ananda colonies some day.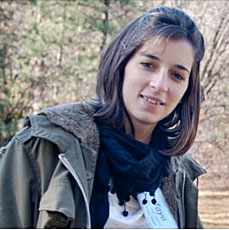 The most important thing that I've gained from
the Karma Yoga Program at The Expanding Light is the ability of focus all of my energy upward in one direction through Service.
"This means that I've been able to practice being more aware of other people's realities and less centered on my own. The structure of this program as well as the other Karma Yogi Participants have made this program what it is: wonderful! I can really feel each person here is a part of my spiritual family."
23 year old Jaya has worked and served regularly at the Ananda Center in Argentina. She has been practicing Paramhansa Yogananda' s teachings for 8 years. She decided to take the Karma Yoga Program to deepen her spiritual practices, including meditation. Jaya continues to benefit from her experience of selfless service to others, making spiritual friends and participating in spiritual community. Jaya is now married and living at Ananda Village.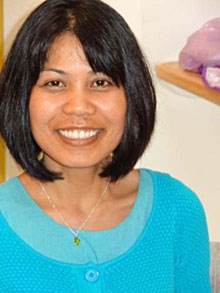 The immersion aspect of the Karma Yoga
Program was the most influential for me. Living the principles of karma yoga in a safe, uplifting and loving environment helped me to feel deeply connected to spirit.
"I had the most happy 6 six weeks of my life vacuuming, washing dishes, mopping floors, cleaning toilets, making new friends while practicing yoga postures and meditating together twice a day. The Expanding Light has a very special place in my heart for it was where I had found Paramhansa Yogananda again and truly experienced what it felt like to live in a spiritual community."
Six months after Phouvang's karma yoga experience, she moved into the Ananda Sacramento community in Rancho Cordova, where she lived until 2014, serving and teaching yoga and meditation. In May 2014 Phouvang moved to Ananda Village and is now serving on the organic farm.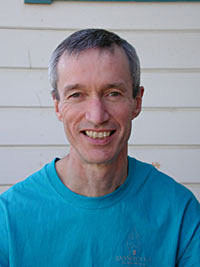 Karma Yoga at The Expanding Light is one of the
highlights of my year. I have loved sharing with and learning from all those people with whom I served. After 6 years of taking this program at different times I still hold all those Karma Yogis in my heart and am grateful for knowing them.
"Perhaps the most profound learning for me has been about Nishkam Karma – action without attachment to the fruits of action. A few years ago I spent 2 days building steps at the Ananda Pune community in India. Then a real builder came along and told us we had to pull them down and build a retaining wall. I was happy to notice that I was quite unperturbed by the 'waste' of 'my' time. Learning nonattachment has been a profound teaching."
Stan has been a kriyaban and an Ananda yoga and meditation teacher since 2006. His life is mainly divided between India, Scotland and America. "My passion, he says, "is human potential and wherever I am I see clients and run a variety of workshops on expansive education, on brain integration, on healing techniques and on yoga and meditation."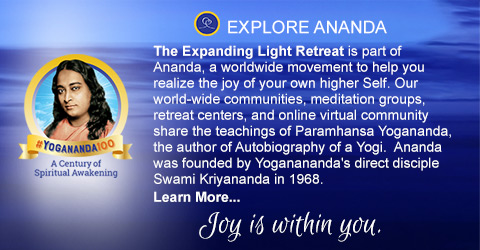 CONNECT
14618 Tyler Foote Rd
Nevada City, California 95959
Toll free 800-346-5350
Outside US 530-478-7518
SUBSCRIBE
Receive uplifting emails with inspirational content and news about our retreat programs, travels, and trainings.