What is the most insightful advice
an Ananda Meditation Teacher has
presented you?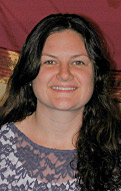 Lift your gaze to the spiritual eye'...may be the most profound
advice an Ananda Meditation Teacher ever gave me. It was very important for me early on to distinguish the difference between falling into a sleepy subconscious state, and soaring into superconsciousness
"Awareness of this gateway to the Infinite has given me a place to focus my energy during meditation, helping to withdraw deeply into my inner world. I find it is also a wonderful practice to hold my attention there while engaged in daily activities, helping me to stay centered and relaxed. The spiritual eye is my link to truth, creativity, and peace. For awareness of it, I am incredibly grateful. Thank you Ananda!
Freelance filmmaker Colleen is an Ananda Yoga Teacher living in Rhode Island and Puerto Rico. She has been practicing yoga for 7 years and became a certified 200 hour yoga teacher in November 2012.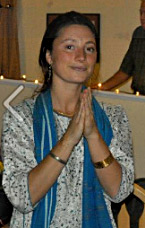 The most memorable advice an Ananda Meditation teacher ever gave
me happened ten years ago in a yurt at Ananda Village.
"I had arrived for my first summer at Ananda in 2002 and a woman named Mantradevi was leading a program about spiritual community. I was not a regular meditator at that time and was very restless.
It was a sunny afternoon and Mantradevi began to lead us through a guided meditation. Sunlight from the skylight was shining in on her. She said, 'Just leave everything behind except for this very moment. You are here now.'
"In that very instant, it brought me completely present, like all of sudden all my energies became aligned in one direction and I was focused. I was present on that one moment. My experience was very deep and profound and I was never the same after it. Meditation has become one of the most profound, interesting and deep parts of my life."
28 year old writer, artist and student Clarity' is currently enrolled in the Ananda College at Laurelwood, majoring in Education for Life. Clarity has been practicing meditation for 10 years and yoga since she was 13 years old.

The answer to this question from my heart would be to provide the following question
in turn: "What part of the air that you breathe, do you like the most?"
"I have been blessed in this incarnation to sit at the feet of Swami Kriyananda and many Ananda ministers. Through their teachings my meditations have become seamless. They have given me what Divine Mother asked them to – a pathway to the Infinite Cosmic Consciousness. It's now up to me to travel that path. I won't examine or compare my meditations any more.
"I won't stop meditating when I stand up to go to work, eat, play or go to sleep. This is the most important thing that Ananda has taught me. May Divine Mother bless everyone."

A turnaround CEO since 1989 Henry specializes in revitalizing under-performing companies. Having meditated regularly for 13 years, Henry just received certification as an Ananda Yoga Teacher in November 2012. Henry teaches Hatha yoga, meditation and yoga philosophy at the studio he opened in Lithia, FL.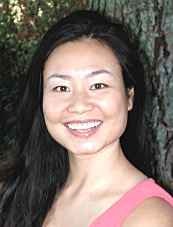 The most profound advice that an Ananda Mediation Teacher has ever given me
was about giving constructive feedback when resolving a conflict with a situation/person. She said, 'Before you are about to give a constructive feedback to someone, think about the following: it's not what you say, it's not even how you say it, but first and foremost, it is the right time to say it, in other words, is the person ready to hear it?'
"This is very simple, yet not so easy to do, especially when we find ourselves in the heat of the moment. Nevertheless, this is the most profound advice for me because it gives me a global view of any challenging situation I may face and thus helps me to gain the awareness from self and from the environment around me. Perhaps, this is one of the goals in achieving mindfulness. I find myself applying this advice in both personal and professional settings."
Certified Meditation and Yoga Teacher Thi took her trainings in summer 2012.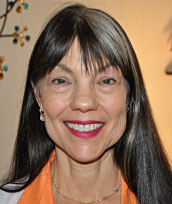 I received so much helpful advice during the Meditation Teacher Training
Program at The Expanding Light. Yet perhaps the most helpful advice that was given to me and those to whom I have passed it on is, 'Just show up!'
"As we all know, there are times when the ego doesn't want to meditate and can come up with all sorts of excuses and justifications for not doing so. This simple advice brings me time and again to my meditation space anyway, sitting there, just beginning some techniques and before I know it, I'm really glad I came!
"This advice is what people from my classes and meditation group have most commonly told me has helped them be regular in their practice. Isn't resistance and lack of consistency one of our biggest obstacles to a joyful daily practice?!"
Paula has been practicing meditation inconsistently for 35yrs, 7 years consistently, and Hatha Yoga for 6 years. She gives Ananda Yoga, meditation, and the Art and Science of Raja Yoga classes to people of all ages and years of experience both privately and in groups mainly in the Denton, TX area.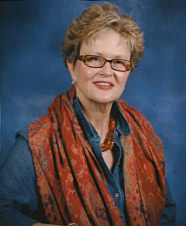 The most insightful advice I received during my
Meditation Teacher Training at The Expanding Light seemed so obvious, however it turned out to be life-changing. Besides learning many techniques to deliver a quality meditation experience, it was the discussion on reasons to continue developing my meditation practice and personal growth that inspired me to be of service to others.
"It is the days when I don't want to sit for my own practice that I am reminded that unless I find ways to push past my own resistance; it could be difficult to instruct others. I was told that, 'students can spot a phony.'
"From this training it became clear that in order to deliver meditation, I needed to continue my own practice of deepening and expanding. Since MTT, I have completed the YTT 200 program and am scheduled to attend Yoga Therapy training."
Eleanor from Redondo Beach, CA, teaches a weekly yoga and meditation class for a group of patients through a holistic medical clinic. She's conducted meditation classes for a variety of yoga instructors as part of their classes along with some private sessions.
"Meditation Teacher Training offered so much more that I ever expected. I have great admiration for all the staff and teachers at The Expanding Light. They clearly reflect the benefits of living a God-Centered life and I will always be grateful for the path they have set before me to follow as it continually enriches my life."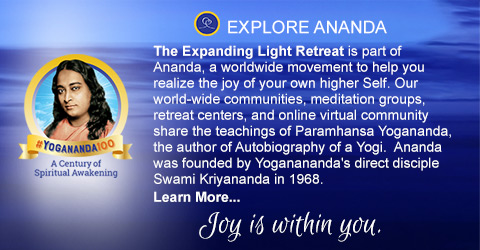 CONNECT
14618 Tyler Foote Rd
Nevada City, California 95959
Toll free 800-346-5350
Outside US 530-478-7518
SUBSCRIBE
Receive uplifting emails with inspirational content and news about our retreat programs, travels, and trainings.