Restorative Yoga Teacher Training
Testimonials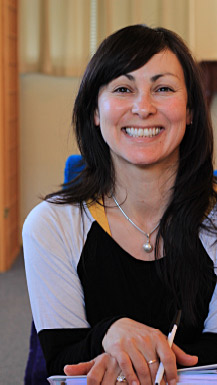 My first experience at The Expanding Light was for this program and I
absolutely love this place, the environment and the beautiful staff. Restorative Yoga Teacher Training was a great way to be introduced to the Ananda Yoga philosophy! Melody is a knowledgeable and approachable instructor. Her sweet and light nature made me feel so at home.
"Since this training, I've deepened my own practice by committing one day a week to practicing restorative yoga. Such a great balance! Last week I showed my daughter a few postures to help her decompress from middle school life and nurture her body while on her cycle.
"I've been incorporating restorative postures more regularly in my current classes and will be teaching a six week restorative workshop series at my local community center.
"I am very much hooked on this beautiful and nourishing form of practice. Thank-you! I will be back!"
Janina is a mother, yoga instructor and Ayurvedic lifestyle counselor living in Santa Cruz, CA. Hey yoga practice started 13 years ago while pregnant with her first child.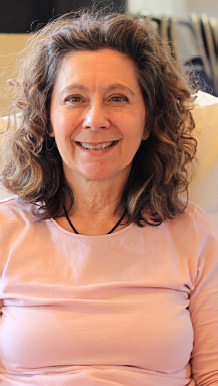 Not only did I gain knowledge from this course and feel well prepared
to teach, but I left feeling restored! Thank-you Melody and to The Expanding Light for this richly-filled program. I am excited about sharing the healing potential of Restorative Yoga.
"Following this training, I've incorporated restorative poses into my regular yoga classes. My students love it when I do this! It's truly a blessing for them. Sometimes it can be as simple as just propping in Savasana. The knowledge I have gained has enriched my teaching skills.
"For myself, when I am feeling overwhelmed, or unable to sleep at night 'Legs Up The Wall' saves the day! ...or rather the night!"
Mary has been teaching Ananda Yoga & Meditation in Burnaby, BC, Canada since 2003. She loves to travel, take care of family, and volunteer for BC Guide Dogs, "but it's the yoga & meditation," she says, "that keeps me balanced and joy-full. When I returned from my two weeks at Ananda people said 'you seem happier !'"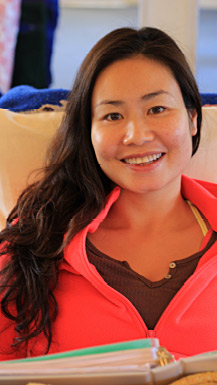 I feel very confident leading Restorative Yoga now that I've taken this
training. I gained the appropriate knowledge beyond books to work with students' safety, alignment, and comfort in the poses. This program was amazing in all aspects: a supportive learning and coaching environment with lots of practice teaching sessions, and students with real physical conditions to work with.
"The information given in our manuals was condense and to the point. The beautiful pictures for each pose with the necessary props needed was very helpful to have. I will always refer back to this manual because of its many resources- instructions, benefits, safety cautions, music, visualizations etc.
— Thi, Palo Alto, CA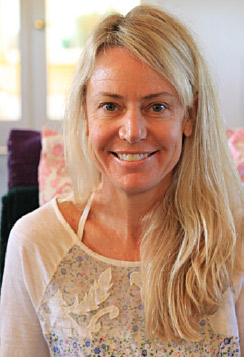 Restorative Yoga Teacher Training was a beautiful experience
personally and professionally. We were taught in a wonderfully supportive environment that felt safe and nurturing.
"Melody's teaching style was simple, direct, and covered everything in a way that was easy to understand and remember. I would highly recommend this training at The Expanding Light to anyone considering this type of course."
— Ronda, Fair Oaks, CA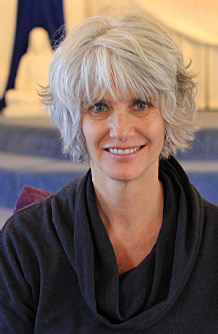 I had done Restorative Yoga and originally felt that I wanted
to teach in that direction, and this course has cemented that idea for me. I now feel completely prepared to offer Restorative Yoga classes.
For such a short class, I definitely felt that the material was thorough and helpful. I would recommend this class to anyone."
— Cathy, El Dorado Hills, CA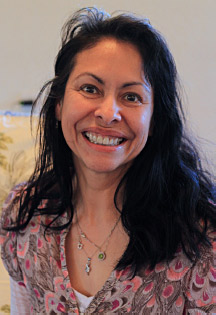 The material that was so lovingly presented in this course was informative
and exact. The practicum was fun and filled with laughter! My classmates were beautiful ladies I befriended and will stay in touch with. It was magical experience for all of us.
"Melody is a warm, loving presence, and provided a supportive environment for the Ananda Restorative Teacher Training."
Celia from Reno, NV, took first yoga class in 1978, deep in the heart of Texas. Yoga for her was always a physical release from the stresses of life. It has only been in the last 4 years that yoga has begun to transform Celia's life.
"Ananda Restorative Teacher Training was amazing. It showed me a new way to LOVE. I pour that love into the restorative poses I use at the end or beginning of my regular yoga classes. Students notice. They crave it and I have all of you to thank for this."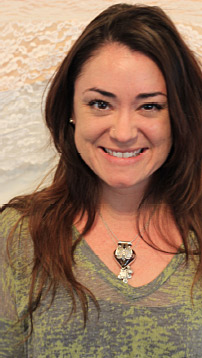 Not only was this an amazing knowledgeable program, but it took
place in a very supportive, loving environment. I feel confident now that I will be able to offer a restorative class after only this one teacher training.
"I was honored to meet Melody and be able to train with her! I highly recommend taking this course if you're a yoga teacher wishing to offer something special to your students!"
— Lorretta, Reno, NV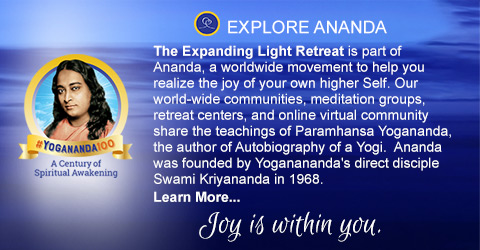 CONNECT
14618 Tyler Foote Rd
Nevada City, California 95959
Toll free 800-346-5350
Outside US 530-478-7518
SUBSCRIBE
Receive uplifting emails with inspirational content and news about our retreat programs, travels, and trainings.