Education for Life Training

for Teachers and Parents
Not scheduled at this time.
with Nitai Deranja
Would you like to:
Have children be enthusiastic about attending school
Create schools that consistently score in the top 10% nationwide on standardized tests
Help every child participate in music, sports, and drama
Take the stress out of academics
Integrate intellectual achievement with similar growth in the body, feelings, and development of will power
Prepare children to find real success in life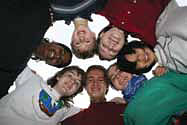 Education for Life is a revolutionary approach to working with young people that draws the highest from each child. In an Education for Life school young people discover who they are as human beings, how to make decisions that promote personal happiness and harmony, and how to focus their attention to succeed at whatever they attempt.
Education for Life is based on principles of education introduced by Paramhansa Yogananda in 1917 at his school in Ranchi, India.
The first Education for Life school in the United States began in 1972 at Ananda Village. Both here and in the seven other EFL schools (including a high school and college) that have started since then, we help children learn practical life skills, such as how to:
Relate sensitively to other people's realities
Focus attention, concentrate, and ignore distractions
Stay even-minded and cheerful amidst life's challenges
Speak and behave in tune with inner truth
As children grow, they are encouraged to appreciate the increasing levels of inner joy and well-being they feel when expressing their highest potential, and this inner well-being becomes their primary motivation for further development.
In this workshop, you will benefit from Ananda's 40+ years of experience in education and child-raising. Classes will include a mixture of lecture, discussion, and experiential tools and activities. You will learn how to:
Identify the underlying needs of a child through understanding the spectrum of consciousness
Help a child achieve optimum growth through the balanced cultivation body, feelings, will, and intellect
Motivate children effectively in accordance with their level of consciousness
Build a supportive relationship with each individual young person
Adjust the style of your interactions as children mature.
This training is ideal for teachers, people who would like to teach in regular or EFL schools, parents, and adults who work in child-centered learning environments.
A Certificate of Course Completion is available for those who take and pass the optional end-of-course examination.
Here's an outline of your training
Sunday

evening:
Orientation

Monday

morning:
Why Education for Life?
What are the fundamental principles on which the system is based? What are the goals? How does it compare to Montessori, Waldorf, and other approaches to education?
afternoon:
Activities for Sharing Education for Life

Tuesday

Morning:
The Balanced Child
What do we mean by the whole child? What is character development? How do we acknowledge children in their strengths and encourage them in their areas of challenge?
Afternoon:
Flow Learning
How can a parent or teacher use Flow Learning to teach spirituality? To pull off a birthday party? To do homework? To plan a class?

Wednesday

Morning:
One-to-One Time with Children
Workshop participants have the chance to connect with one of the children in an unstructured setting.
Afternoon:
Motivating Children
How do we evaluate our own and the children's energy levels? Can a child have too much energy? How do we motivate the reluctant child? Why are rewards sometimes helpful and sometimes harmful?

Thursday

Morning:
Stages of Maturity
How do children's needs change as they mature? What kinds of activities will support growth before 6 years of age? From 6-12? From 12-18?
Afternoon:
Developing an EFL Classroom
What does an EFL classroom look like? What does it mean to have a child-centered curriculum?

Friday

Morning:
The Role of the Adult
What are the ideal characteristics for a parent or teacher who wants to serve children from the Education for Life perspective?
No dates scheduled for Education for Life Training at this time.
Prices are all-inclusive and cover accommodations, meals, classes or activities, and course materials.
Education for Life Training starts the afternoon of the first date listed and ends with lunch on the last date listed. Check-in is anytime between 1:30 p.m. and 4:30 p.m. at our Front Desk. Your room will be available by 3:00 p.m. Dinner is at 6:30. The first gathering of your group is after dinner.
Please see:
You can add extra personal retreat days before and/or after your program. Check availability and costs for the days and accommodations that you require.
Education for Life Training starts the afternoon of the first date listed. It's ideal to arrive before 4 pm, if you are able to. That way, you can join in the afternoon session of yoga and meditation, which begins at 4:45 pm. Dinner is at 6:30. The first real gathering of your group is at 7:30 pm. If you need to arrive here after 5 pm, that's fine, but it helps us if you let us know at 800-346-5350. We can also put aside a dinner for you if you need to arrive after 7 pm. The program ends with lunch on the last date. Please see our Daily Schedule.
See Transportation and Directions whether you are coming by plane, car, bus or train. Our Frequent Questions page answers many of the questions you might have about How to Go on Retreat.