During this retreat you will: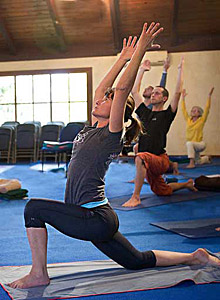 Experience how yoga postures, combined with special breathing and affirmations, directly affects the energy flow within the chakras—changing negative attitudes into positive ones
Experience the subtle influences of the chakras on your consciousness
Become aware of the positive qualities of the chakras
Take home a yoga routine to awaken and uplift the energy in the chakras
Learn a meditation technique brought to the West by Yogananda. He called it "one of India's greatest gifts to the world."
Enjoy transformative periods of deep inner relaxation
In our astral, or energy body, the astral spine is the channel through which our life force flows. Within the astral spine lie the seven centers of energy, the chakras, which send energy outward for daily activities—or redirect energy upward for spiritual awakening.
During this special weekend course with Annapurna Lacour, you will enjoy a focused practice of Ananda Yoga postures to help you awaken the energy in the chakras. In one short weekend, you can be profoundly recharged and inspired.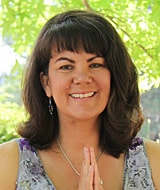 Ananda Yoga® Instructor, E-RYT 200, Ananda Meditation® Teacher
Annapurna DeLyle graduated from Ananda Institute of Living Yoga, in Bothell, Washington, and has been teaching yoga since 2007. She has been a student of Ayurveda since 1990, and continues her education with Kerala Ayurveda School in Wellness Counseling.
No dates scheduled for Yoga Retreat for Chakra Awareness at this time.
Prices are all-inclusive and cover accommodations, meals, classes or activities, and course materials.
Yoga Retreat for Chakra Awareness starts the afternoon of the first date listed and ends with lunch on the last date. Please see:
You can add extra personal retreat days before and/or after your program. Check availability and costs for the days and accommodations that you require.
Yoga Retreat for Chakra Awareness starts the afternoon of the first date listed. It's ideal to arrive before 4 pm, if you are able to. That way, you can join in the afternoon session of yoga and meditation, which begins at 4:45 pm. Dinner is at 6:30. The first real gathering of your group is at 7:30 pm. If you need to arrive here after 5 pm, that's fine, but it helps us if you let us know at 800-346-5350. We can also put aside a dinner for you if you need to arrive after 7 pm. The program ends with lunch on the last date. Please see our Daily Schedule.
See Transportation and Directions whether you are coming by plane, car, bus or train. Our Frequent Questions page answers many of the questions you might have about How to Go on Retreat.
RELATED PROGRAMS