"Voice is the channel through which human consciousness flows into outward manifestation." —Swami Kriyananda
Your voice holds the imprint of your consciousness. Through the power of your voice you can transmit the light of the soul. Learning how to use the voice effectively brings deep and lasting benefits for personal growth and expression.
Dynamic vocal qualities can stimulate and create magnetism, align thoughts and emotions, and release stress. Learn how Yogananda's principles can expand, clear, and strengthen your voice and consciousness.
If you use your voice a lot—teaching, leading projects, sales, counseling, public speaking—this program will help you. Mukti skillfully (and playfully) integrates the subtler dimensions of Yoga with her many years of experience in speech pathology.
During this self-expansive retreat, you'll learn and practice the keys to speaking with more comfort, better vocal health, and greater effectiveness.
You will experience how to:
Develop your authentic voice
Open your heart and voice
Effectively use your vocal anatomy
Improve posture for speaking
Reduce stress while speaking
Be a channel for higher consciousness through your voice
Attune your voice to the vibration of AUM
The weekend workshop will include:
Exercises to improve vocal placement, quality, and strength
Hatha yoga to open, relax, and free the flow of energy in the head, neck and upper body
Breathing (pranayama) techniques
Techniques for speaking from the higher chakras
Chanting and music to elevate your consciousness and spiritualize your voice
Nayaswami Mukti is a licensed Speech Pathologist with 35 years of clinical experience, certified by the American Speech and Hearing Association. She is an Ananda Minister and Lightbearer who has lived at Ananda Village for more than 20 years. She is active in Ananda's Music Ministry and has a special interest in spiritualizing the human voice so that it becomes a channel for divine consciousness.
"Mukti is terrific! Smart, funny, very good teacher.Terrific exercises, reading, asana, and pranayama. Mukti's feedback during exercises was highly valuable." —Catherine, Cook, MN
"This has been an amazing experience. I liked the program, which was balanced with theories of speech science, yoga postures, exercises, techniques, and time for questions. Mukti ws fantastic. She knows the subject well and teaches from her heart. She infuses her classes with laughter. What a joy to take the class from her!"
—Charlene, Foster City, CA
"I loved it all. The highlight for me was getting feedback from Mukti during the practice sessions. Mukti was great—fun and knowledgeable." —Helen, Nevada City, CA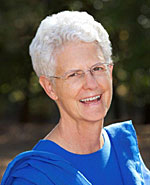 Inspirational teacher and retreat leader
Ananda Meditation Teacher, Ananda Minister and Spiritual Counselor
Nayaswami Mukti has been creating and leading a variety of inspirational retreats at The Expanding Light Retreat for the past many years. The themes and facets of her retreat programs reflect her own long-term and deep exploration to let every aspect of her life flow from a deep Kriya Yoga meditation practice. Her life has been one of uplifting service ranging from her full-time career as a speech therapist, to being a key member of the Ananda Music Ministry and to her out-reach to Ananda Meditation groups.
No dates scheduled for Discover Your Authentic Voice at this time.
Prices are all-inclusive and cover accommodations, meals, classes or activities, and course materials.
Discover Your Authentic Voice starts the afternoon of the first date listed and ends with lunch on the last date. Please see:
You can add extra personal retreat days before and/or after your program. Check availability and costs for the days and accommodations that you require.
Discover Your Authentic Voice starts the afternoon of the first date listed. It's ideal to arrive before 4 pm, if you are able to. That way, you can join in the afternoon session of yoga and meditation, which begins at 4:45 pm. Dinner is at 6:30. The first real gathering of your group is at 7:30 pm. If you need to arrive here after 5 pm, that's fine, but it helps us if you let us know at 800-346-5350. We can also put aside a dinner for you if you need to arrive after 7 pm. The program ends with lunch on the last date. Please see our Daily Schedule.
See Transportation and Directions whether you are coming by plane, car, bus or train. Our Frequent Questions page answers many of the questions you might have about How to Go on Retreat.