The Path of Karma Yoga: Stillness in Action
May 29 – 31, 2020
Oct 30 – Nov 1, 2020
with Trimurti Motyka
How do you experience your job? Your daily work responsibilities? What keeps you from being always relaxed, even-minded, and cheerful?

Is it the job? Or is it your thoughts and attitudes about the job?
During this potentially life-changing weekend, you will:
Examine your repetitive thoughts about yourself and your work
Discover you have the power to change those thoughts
Gain many simple tips and changes you can use right away to make dramatic shifts in your daily experience
The guided exercises in a focused and uplifted atmosphere can help you open inner doorways to getting a fresh start on your life. Perhaps it's time to change jobs, but perhaps – instead – it's time to change yourself!
This course will be partly introspection, discussion, and instruction, and partly experiential – trying the new attitudes and activities out in a simple work situation.
During this special weekend, you'll examine basic attitudes you may have that keep you from being relaxed and happy: "I have to get this done now so I can move on to something else." "I don't want to be doing this." "This is boring…or too stressful…or – fill in the blank."
As the expression goes: "Wherever you go, there you are." Most of us have no idea how our attitudes and our mental dialogue affect our work experience.

Nayaswami Trimurti, your weekend guide, has been directing The Expanding Light's Karma Yoga program for about 20 years. He himself is a beautiful example of Stillness in Action. Meeting him and sharing an evening in his home with his wife and him will add to the richness and joy of your experience.
For more information, please send us a Question or Comment:

Receive monthly news and inspiration.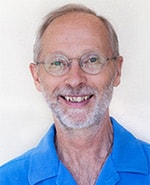 Spiritual Director of the Ananda Ashram Karma Yoga Program
Trimurti has been the guiding light of the Karma Yoga Program at the Expanding Light Retreat for over 20 years. Trimurti is by nature an energetic, deeply devoted, extraordinarily kind, multi-talented, and generous person who delights in serving others.



or e-mail or call us at 1-800-346-5350
Costs (TPKY)
Costs are on a per person basis.
May 29 – 31, 2020
Oct 30 – Nov 1, 2020
Tent
RV
Standard
Shared
Standard
Private
Deluxe
Shared
Deluxe
Private
$264
$342
$470
$432
$604
Prices are all-inclusive and cover accommodations, meals, classes or activities, and course materials.
The Path of Karma Yoga: Stillness in Action starts the afternoon of the first date listed and ends with lunch on the last date. Please see:
You can add extra personal retreat days before and/or after your program. Check availability and costs for the days and accommodations that you require.
The Path of Karma Yoga: Stillness in Action starts the afternoon of the first date listed. It's ideal to arrive before 4 pm, if you are able to. That way, you can join in the afternoon session of yoga and meditation, which begins at 4:45 pm. Dinner is at 6:30. The first real gathering of your group is at 7:30 pm. If you need to arrive here after 5 pm, that's fine, but it helps us if you let us know at 800-346-5350. We can also put aside a dinner for you if you need to arrive after 7 pm. The program ends with lunch on the last date. Please see our Daily Schedule.
See Transportation and Directions whether you are coming by plane, car, bus or train. Our Frequent Questions page answers many of the questions you might have about How to Go on Retreat.