Yoga postures have a unique power to relax tense muscles and, especially, to awaken the inner energy for deeper meditation.
Proper meditation will help you attune more to your inner life—and bring deeper sensitivity to your yoga practice. In this deeply rejuvenating retreat, you will learn a meditation technique, taught by Paramhansa Yogananda, that is a tremendous aid to concentration and the discovery of inner peace.
If you have not yet explored the potential of integrating yoga postures and meditation, you are in for a life-changing experience. If you've dabbled a little bit in both, you will take home a fresh approach to enliven your practice.
You will learn how to:
Cultivate clear, calm, and focused mental energy
Incorporate mindfulness and meditation during yoga practice
Work with the subtle energies of the astral spine to accentuate positive attitudes
Develop a personalized daily routine that suits your schedule and lifestyle
Instruction and activities include:
Meditation Techniques
Ananda Yoga
Pranayama
Affirmations
Energization exercises
Chakra study
You will also have the opportunity to participate in a relaxing evening program, go for a stroll, or watch a sunset on the Ridge.
The weekend will be led Annpurna LaCour who will skillfully guide you to experience the transformative power of yoga to bring your meditation practice to a deeper level.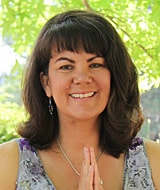 Ananda Yoga® Instructor, E-RYT 200, Ananda Meditation® Teacher
Annapurna DeLyle graduated from Ananda Institute of Living Yoga, in Bothell, Washington, and has been teaching yoga since 2007. She has been a student of Ayurveda since 1990, and continues her education with Kerala Ayurveda School in Wellness Counseling.
No dates scheduled for Integrating Yoga and Meditation Retreat at this time.
Prices are all-inclusive and cover accommodations, meals, classes or activities, and course materials.
Integrating Yoga and Meditation Retreat starts the afternoon of the first date listed and ends with lunch on the last date. Please see:
You can add extra personal retreat days before and/or after your program. Check availability and costs for the days and accommodations that you require.
Integrating Yoga and Meditation Retreat starts the afternoon of the first date listed. It's ideal to arrive before 4 pm, if you are able to. That way, you can join in the afternoon session of yoga and meditation, which begins at 4:45 pm. Dinner is at 6:30. The first real gathering of your group is at 7:30 pm. If you need to arrive here after 5 pm, that's fine, but it helps us if you let us know at 800-346-5350. We can also put aside a dinner for you if you need to arrive after 7 pm. The program ends with lunch on the last date. Please see our Daily Schedule.
See Transportation and Directions whether you are coming by plane, car, bus or train. Our Frequent Questions page answers many of the questions you might have about How to Go on Retreat.
RELATED PROGRAMS