Harmony in Relationships

Using the Chakras to Express Your Best Self
This weekend can help you:
Get in touch with your best and highest self
Release the underlying sources of friction within yourself
Learn how to communicate more effectively and harmoniously

Your chakras hold important keys to self-understanding and self-transformation.
During this weekend you will:
Learn how to work with the chakras in positive ways.
Appreciate the strengths and weaknesses inherent in each chakra
Introspect on the chakras to release fears and anxiety and open to greater love and acceptance
Practice an ancient meditation technique for ego transcendence

Gain tools to help you stay balanced and harmonious in daily life
As part of the weekend, you will receive your own copy of Chakras for Starters by Savitri Simpson.
3 Tips for Harmony in Relationships
1. For one day, watch your speech, and avoid unkind words.
2. Share your appreciation for another person and how much they mean to you.
3. If you feel disharmony with someone, surround them in light and pray for their happiness.
"Love alone will last. The laws of God are the laws of brotherhood and love." — Paramhansa Yogananda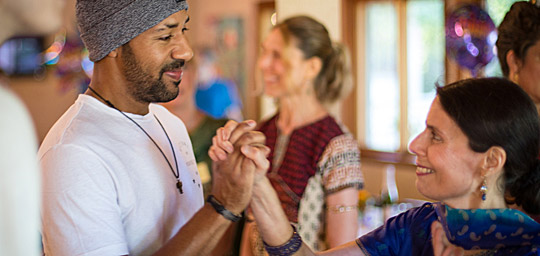 More details about your reservation for Harmony in Relationships

or e-mail or call us at 1-800-346-5350
Costs (HRE)
Costs are on a per person basis.
Tent /
RV
Standard
Shared
Standard
Private
Deluxe
Shared
Deluxe
Private
$252
$318
$450
$410
$592
Prices are all-inclusive and cover accommodations, meals, classes or activities, and course materials.
Harmony in Relationships starts the afternoon of the first date listed and ends with lunch on the last date. Please see: