"Paramhansa Yogananda brought to this country one of the most important spiritual gifts possible—the idea of worshiping the Divine Mother."
(Swami Kriyananda)
Experiencing God as Divine Mother is a beautiful, heart-opening, and deeply satisfying way to understand God. Our culture desperately needs to cultivate the feminine qualities of compassion, love, forgiveness, acceptance, and respect as part of a meaningful relationship with Spirit.
Coming together during our women's retreat, we will explore our relationship and experience of Divine Mother through inspiration, sharing, silent nature walk, chanting, meditating, and journaling.
Together we will open our hearts to the expanding love that is our true nature and that yearns to more fully express itself inwardly and outwardly.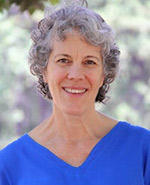 Inspirational teacher of Ananda meditation & yoga philosophy; Ananda Minister & Spiritual Counselor. What is a nayaswami?
Nayaswami Maria is a deep soul who rests her life in the Divine Spirit - her service to others as a teacher, spiritual guide, musician, gardener are all roles she plays while centered in her heart. Over more than 40 years she has studied yoga philosophy such as the Bhagavad Gita and teachings of Paramhansa Yogananda and then she has lived those teachings through a lifestyle of daily Kriya Yoga meditation and service to others. Maria's grounded and open heart allow her to make new friends easily as she gently meets people wherever they are at in their lives as they seek to grow their spiritual path.

or e-mail or call us at 1-800-346-5350
Costs (DMMR)
Costs are on a per person basis.
Please call to get prices
Prices are all-inclusive and cover accommodations, meals, classes or activities, and course materials.
Divine Mother Mother's Day Retreat starts the afternoon of the first date listed and ends with lunch on the last date. Please see:
You can add extra personal retreat days before and/or after your program. Check availability and costs for the days and accommodations that you require.
Divine Mother Mother's Day Retreat starts the afternoon of the first date listed. It's ideal to arrive before 4 pm, if you are able to. That way, you can join in the afternoon session of yoga and meditation, which begins at 4:45 pm. Dinner is at 6:30. The first real gathering of your group is at 7:30 pm. If you need to arrive here after 5 pm, that's fine, but it helps us if you let us know at 800-346-5350. We can also put aside a dinner for you if you need to arrive after 7 pm. The program ends with lunch on the last date. Please see our Daily Schedule.
See Transportation and Directions whether you are coming by plane, car, bus or train. Our Frequent Questions page answers many of the questions you might have about How to Go on Retreat.