How to Know and Trust Your Inner Guidance
with David Gamow
"Intuition is the directly-perceiving faculty of the soul
that at once knows the truth about everything,
requiring no medium of sense experience or reason."
—Paramhansa Yogananda
Learn to Recognize and Trust Your Inner Guidance
True inner guidance is calm, centered knowing. Learn simple techniques to draw the guidance that is always freely available to you and to distinguish it from imagination or hope.
Awaken Your Intuition
Deepen your awareness, and learn to hear your own inner wisdom that you may live a more intuitive and connected life.
During this weekend retreat, you will learn:
How to ask for guidance
How to tell true guidance from imagination
To develop courage to face the unknown
Calming the heart — techniques for increasing your intuition
What Our Guests Say:
"I think this workshop is one of those life-changing events that truly causes a shift in your perspective. We all suffer from letting events in the outer world control our emotions, but once you can truly make the shift of knowing how to control your inner world, you feel a huge weight lifted. David has the ability to genuinely connect with his students and intuitively guide the workshop to best suit their needs. I highly recommend David to anyone who is looking for that deeper connection in life." —Andrea M.
"I was held in rapt attention! Trying to feel my own inner guidance is new to me, and has been a goal of mine. I am looking forward to getting started!" —Terry Ruggens, Napa, CA
"I absolutely enjoyed this course. All of your work flows out of you in a very loving, alive, and sensitive way." —Content Hagen, Ellicott City, MD
"This workshop was a validation of what 'I know' already. It was 
a reminder to ask. I did so 
several times tonight during 
the program, and immediately 
received several answers." —Jane Holt, Fremont, CA
"Your stories really touched me." —Peggy Holt, Moraga, CA
"I can't put into words what I've gotten from this program. I'm quite moved. Thank you very much." —Diane Linville, San Jose, CA
"There were many practical tools to take home that I may apply in my life. And I could really feel your sincerity. I loved the stories and examples to illustrate your points." —Scott Shnurman, Concord, CA
"Your integrity and wisdom are an inspiration. Lots of humor and heart! Thanks so much." —Carolynn Ranch, Vacaville, CA

Online Course Option:
If you'd like to explore this topic more, Ananda Online offers a course called "Awaken Your Intuition." Click here for a link to that course.
For more information, please send us a Question or Comment:

Receive monthly news and inspiration.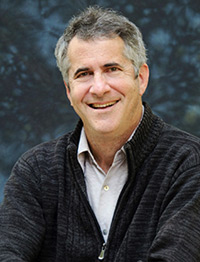 David Gamow, author of Freedom from Stress, left a career on Wall Street to immerse himself in living Eastern teachings for the past 35 years. He is the founder of Clarity Seminars, and has taught meditation and mind-calming techniques to almost 30,000 people at places like CBS, Stanford Medical, NASA, GE, the U.S. Treasury, and the U.S. Department of Justice. He has been featured in the San Jose Mercury News, the Chicago Tribune, Investor's Business Daily, and on Fox TV.

or e-mail or call us at 1-800-346-5350
Costs (DGKNOW)
Costs are on a per person basis.
Tent
RV
Standard
Shared
Standard
Private
Deluxe
Shared
Deluxe
Private
$322
$408
$542
$506
$690
Prices are all-inclusive and cover accommodations, meals, classes or activities, and course materials.
How to Know and Trust Your Inner Guidance starts the afternoon of the first date listed and ends with lunch on the last date listed. Check-in is anytime between 1:30 p.m. and 4:30 p.m. at our Front Desk. Your room will be available by 3:00 p.m. Dinner is at 6:30. The first gathering of your group is after dinner.
Please see:
You can add extra personal retreat days before and/or after your program. Check availability and costs for the days and accommodations that you require.
How to Know and Trust Your Inner Guidance starts the afternoon of the first date listed. It's ideal to arrive before 4 pm, if you are able to. That way, you can join in the afternoon session of yoga and meditation, which begins at 4:45 pm. Dinner is at 6:30. The first real gathering of your group is at 7:30 pm. If you need to arrive here after 5 pm, that's fine, but it helps us if you let us know at 800-346-5350. We can also put aside a dinner for you if you need to arrive after 7 pm. The program ends with lunch on the last date. Please see our Daily Schedule.
See Transportation and Directions whether you are coming by plane, car, bus or train. Our Frequent Questions page answers many of the questions you might have about How to Go on Retreat.