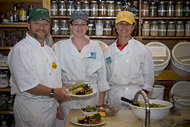 Cooking Apprenticeship
NOT OFFERED AT THIS TIME
Do you want to learn how to cook balanced vegetarian meals – while deepening your own spiritual understanding and practices?
The Cooking Apprenticeship Program at The Expanding Light is a special program designed for those who want to cook with the spirit of serving God in everything you do.
We invite a select few, creative and high-energy people, to join us in our joyfully active kitchen to learn while serving. You will play an important role in meal preparation with our kitchen staff and karma yogis – and serving our guests.
In addition to your service in the kitchen, you will participate in classes and programs on spirituality and spiritual practices.
"I cannot possibly express my thanks for the opportunity to serve in the capacity as apprentice chef. My spiritual practices progressed easily with the work schedule that I followed.

"I'm very grateful for all of the friends I've made, meals I've made, and large functions I've been able to attend or take part in creating. My life will certainly move in a more centered and enlightening direction after my stay and service at Ananda."
– Nolan, Halifax, Nova Scotia, Canada
What You'll Learn
The basics of cooking balanced, delicious vegetarian meals
Principles of a yogic diet and cooking
How to cook with a consciousness of sharing God in everything you do
Practical, down-to-earth methods of running a busy retreat kitchen, including maintenance, cleaning, and safety
Vegetarian restaurant operation
Interacting with fellow staff in a supportive and cooperative manner
How to bring Spirit into everything you do
Infuse food with love!
You will have required texts to read to support your spiritual development, and you will have the opportunity (and expectation) to attend yoga and meditation sessions. On completion of your successful service, you'll receive a Vegetarian Cooking Certificate.
The Expanding Light Retreat is part of Ananda Village, which after 41 years, is one of the most successful intentional communities – and spiritual communities — in the world. All the programs of The Expanding Light are based on the teachings of Paramhansa Yogananda, and we teach the techniques of meditation and yogic lifestyle as explained by Yogananda.
People of all faiths and backgrounds are welcome as guests and as Cooking Apprentices. During your time here, you will have the opportunity to go further on your own spiritual path in a professional and spiritual environment.
Cost
$1600 for 3 mos with $100 deposit, $1100 on arrival, $200 at start of months 2 & 3.
Price is all-inclusive and covers accommodations, meals, classes, activities, and course materials.
For more information call 800-346-5350 or 530-478-7518, ext. 7098.
Karma Yoga

"The Karma Yoga Program has been a pivotal point in my life. Working with people who are here to serve God and the collective whole is truly inspirational. It has given me the opportunity to feel the flow of this amazing community. I'm indebted to this place."
– Michelle M., Eugene, OR

Receive monthly news and inspiration.