Meals
What kind of food do you serve? Can you accommodate special diets?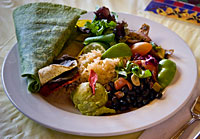 Three delicious and satisfying vegetarian buffet meals are included with the cost of your stay. Some of our dishes contain eggs and dairy. We use organically grown foods as much as possible, including some organically grown eggs and produce from right here at Ananda Village, and organically grown Fair Trade coffee. We have a variety of teas and fresh fruit available all day.
We can accommodate some special dietary needs with non-dairy, non-wheat, and egg-free choices. If you have other dietary needs, it may be that we will not be able to accommodate them.
A small refrigerator for guests who are staying in Serenity House Lounge and a full size refrigerator outside our kitchen are available for storing special foods guests might need during their stay. There is a Market close to Ananda Village if you'd like to buy special items.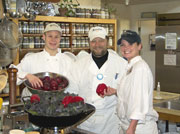 "Oh, goodness gracious, were the meals ever excellent! Never have I been so well fed with delicious, nutritious meals in my entire life. What an excellent kitchen staff you have!"
– Holly Bruce, Scottsdale, AZ
Weather
Check Weather Report from Accuweather
We're located at a 2500-foot elevation in the foothills, not the mountains. We sometimes get a little snow, but winters are generally mild. In January it's common to have high temperatures in the 60s. We can't promise particular weather when you visit, but it is very rare for snow to cause travel problems.
About Us