Finding Happiness: The movie and the retreat
Begin the journey …….
Whether you have seen the wonderful Finding Happiness new genre movie yet or not – you are invited to come to The Expanding Light Retreat at Ananda Village to find happiness for yourself.
The Finding Happiness movie is quickly garnering critical acclaim.

Finding Happiness the movie is a docudrama about a fictional magazine writer, Juliet, who is given the assignment to visit Ananda Village for a story. She explores the history and current dynamics of this successful alternative community. The story unfolds as a personal journey for Juliet, as she meets and talks with Swami Kriyananda and many of the residents of Ananda Village. Juliet experiences life in Ananda Village and at The Expanding Light Retreat, located within Ananda Village.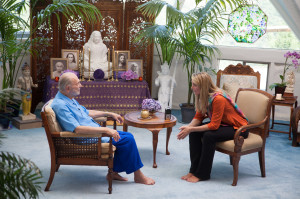 The movie explores how Paramhansa Yogananda, the author of the most successful spiritual biography of all time, Autobiography of a Yogi, proposed World Brotherhood Colonies - and how his disciple Swami Kriyananda fulfilled his mission.
In Finding Happiness you will, along with Juliet, hear directly from many great souls from Ananda Village and other worldwide Ananda Colonies. You will see how Ananda approaches everything by bringing in spirit. You'll hear Ananda Music, see life in community, absorb the spirit behind the movement, learn about permaculture and organic gardening, how to deal with death, the Yuga cycles of time, how the brain is designed for divinity and more. Most of all, you will feel the inspiration to bring happiness into your own life, and gain insights into how to go about it.
"A very inspirational film.
I look forward to visiting Ananda for the first time.
It brought tears to me."
A Grass Valley moviegoer

Many of the scenes in the movie were shot at The Expanding Light Retreat – the happiness retreat.
Find out more about the movie Finding Happiness.
Continue the journey …….
Find joy, love, and inner peace with Ananda.
Discover and share a path to a better world.
You can stay at The Expanding Light Retreat in Ananda Village to experience for yourself the environment and learn more about tools to be happy.
Open every day of the year, The Expanding Light always has programs going on that share proven techniques for developing happiness by getting in touch with your own highest self.
Our teachers include people in the movie, including Nayaswami Gyandev - who taught Juliet yoga and meditation, Nayaswami Anandi - who spoke about karma and reincarnation, Mary Kretzmann - whose family you met, and Dr. Peter Van Houten who explained the power of the brain to learn and grow at any age. (And Krishnadas who only rang the gong in the movie, but really, he can teach you how to meditate, too!) The entire teaching and support staff consists of loving people who will encourage and support your personal spiritual growth and happiness.
The Expanding Light is open to everyone interested in finding happiness by deepening their own spiritual path.

While visiting a spiritual community in northern California called Ananda (meaning "Joy") an investigative journalist armed with a fair amount of skepticism and a dash of curiosity discovers that the key to finding happiness comes from within and that when you change, everything changes.
Some upcoming programs to help you find more joy in your life include:
See the complete Calendar, to see even more programs and pilgrimages that will support you in your efforts to increase your own joy.

What is the most important quality guests have gained from their stay at The Expanding Light?
Find Out...

Receive monthly news and inspiration.