The Energy of
The Expanding Light Retreat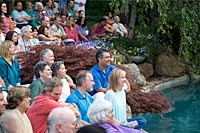 Some people notice a wonderful energy as soon as they set foot on The Expanding Light grounds. Others find this energy slowly flooding through them as their program proceeds. Some awaken one morning to find they are suddenly and deeply filled with joy. Once in a while someone only recognizes the uplifting power of The Expanding Light after they've left - and then realizes how much it meant to them.
But no matter when one recognizes the flow of joyful, peaceful energy that suffuses The Expanding Light at Ananda: It is always present. It is always powerful. And it is always uplifting.
Expand your sense of harmony,
and gain an increased sense
of God's loving presence in your life.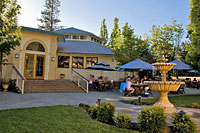 Ananda Village and The Expanding Light Retreat were founded 40 years ago by Swami Kriyananda, a close direct disciple of the great master Paramhansa Yogananda. Throughout those decades residents and visitors have dedicated their time here to finding the Divine within themselves. This continuous effort has drawn the tangible energetic blessing experienced only in true holy places.
All of the programs offered at The Expanding Light are expressions of the teachings of Paramhansa Yogananda, who showed how to include the Divine in every aspect of our lives. Forty years of calling God, shared by thousands of people using ancient techniques passed down by the great Masters, have been answered. Divine Presence expressed through our line of gurus is clearly perceptible at The Expanding Light. You can enjoy a retreat and be lifted by this lovely grace.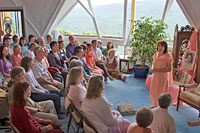 Yogananda, Ananda, and The Expanding Light respect all spiritual traditions and all cultures. People from every faith and background - and those who are simply interested - are genuinely welcomed here. The techniques taught at The Expanding Light support your own personal spiritual unfoldment.
Meet the challenges and victories of
your own spiritual journey
in the company of friends who support
your inner growth and higher aspirations.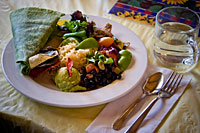 Whether you enjoy a more luxurious room or a simple cabin, you will feel at home in the calming and joyful energy. The food is enriching beyond what you would expect from the well-balanced vegetarian meals - because it is infused with love. We recognize the Divine in everyone. We feel that we are serving God through serving our guests, and welcome you warmly.
Weather
Check Weather Report from Accuweather
We're located at a 2500-foot elevation in the foothills, not the mountains. We sometimes get a little snow, but winters are generally mild. In January it's common to have high temperatures in the 60s. We can't promise particular weather when you visit, but it is very rare for snow to cause travel problems.
About Us

What is the most important quality guests have gained from their stay at The Expanding Light?
Find Out...

Receive monthly news and inspiration.