Spiritual Counseling at The Expanding Light
Do you need help finding clarity? Ananda's counselors are ministers who have many years of training and experience helping countless people. Their lives have been built upon a foundation of daily meditation, introspection, teaching and living the everyday spiritual life.
We offer spiritual counseling, not psychotherapy. We don't try to "fix" you. Rather, through questions and working together, we help you clarify the issue, your goals surrounding it, and some possible next steps that will support your spiritual growth. As much as possible, we seek to help you discover your own solutions, but we will also make any suggestions that seem appropriate.
You can make an appointment at Guest Services while you are here or call ahead of time, 800-346-5350, to set up an appointment in advance. The cost, while you are a guest at The Expanding Light, is $75 per hour.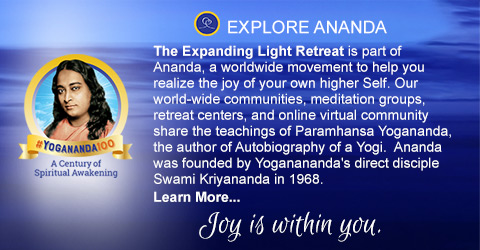 CONNECT
14618 Tyler Foote Rd
Nevada City, California 95959
Toll free 800-346-5350
Outside US 530-478-7518
SUBSCRIBE
Receive uplifting emails with inspirational content and news about our retreat programs, travels, and trainings.