Buses from the Sacramento Airport to Ananda Village
Using Buses can save you some money on your trip to The Expanding Light. The last leg of your journey, however, now needs to happen on a cab, since the bus service from Auburn to The Expanding Light has been discontinued.
To make all these bus connections to reach Ananda Village, it is important to arrive at the Sacramento Airport by noon.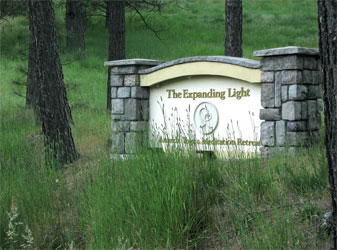 At the Sacramento Airport, walk out to the center island in front of the Airport Terminal. You will see various signs for transportation. Stand at the sign that says "Public Transportation". Take the Yolo County bus, route #42, to downtown Sacramento. The city of Sacramento is about 10 minutes from the airport. The Yolo bus comes by the terminals at the airport at about 15 minutes past every hour until 10 pm.
Let the bus driver know that you want to go to Auburn. The drivers are helpful. Get off at 8th and J Streets in Sacramento.
You will then need to walk 1 block to 8th and K Streets (St. Rose of Lima Park). From there take the Light Rail Bus (it may be a train) to Watt Avenue and Interstate 80. From Watt Avenue and Interstate 80 take the Light Rail (East) to the city of Auburn. This leaves on the hour.
From Auburn, you need to take a cab to get to The Expanding Light.

If you would like to confirm this route, or ask for more information:
Light Rail, Placer County Transit: 530-885-2877.
Call 916-784-6177, for information to reach the city of Auburn from Sacramento.
Weather
Check Weather Report from Accuweather
We're located at a 2500-foot elevation in the foothills, not the mountains. We sometimes get a little snow, but winters are generally mild. In January it's common to have high temperatures in the 60s. We can't promise particular weather when you visit, but it is very rare for snow to cause travel problems.
Getting Here