The 50th Anniversary of Ananda Village and Dedication of New Temple of Light

50 Years of Spreading the Light
Not scheduled at this time.
There are no longer any availability to add your name to attend this event. To be on the waiting list for staying at the Expanding Light, contact us.
You can expect…
The largest gathering of Ananda family from around the world in our fifty year history – a fitting start to the next fifty years.
Masterclasses in spirituality, yoga in daily life, science, yoga, meditation, health and healing, and the arts — offered by Ananda's leading teachers from around the world.
Guided yoga and meditation practices for all levels, in multiple languages daily.
Unparalleled special events and performances throughout the week.
Dynamic, uplifting programs for all ages and stages.
A transformative experience of joy, divine friendship, wonder, and inspiration.
A week of deep inspiration……
A week of deep inspiration...
Hundreds of friends from around the world will gather in the birthplace of this movement, Ananda Village, to honor the life of Swami Kriyananda, Ananda's founder and direct disciple of Paramhansa Yogananda, and look to the future together. This week-long program will weave together all aspects of Ananda's worldwide mission — fulfilling the will of the Masters, spiritual community, yoga in daily life, the path of Self-realization — into an experience of divine friendship for all who come.
The culminating event of the week will be the dedication of the Temple of Light at Ananda Village, a symbol of the uniting spirit that Ananda represents. Dedicated to truth-seekers everywhere, the Temple of Light is a physical manifestation of Ananda's mission in every way. We hope you can come and celebrate this joyful occasion with your worldwide Ananda Family.
A week NOT TO MISS.
Ananda's new Temple of Light is far more than a meeting space for the residents of Ananda Village. It is a sacred shrine dedicated to world brotherhood, and to the Light to be found at the heart of all religious paths.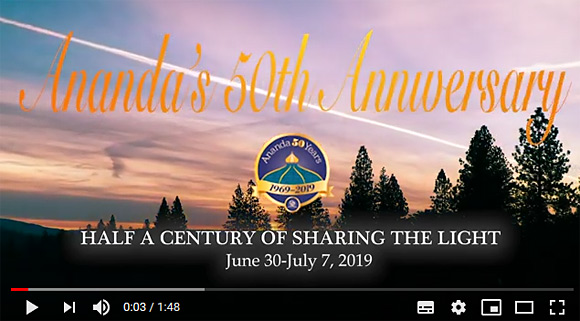 This week of celebration will include activities such as:
A July 4 celebration of World Brotherhood
50 years: past, present, and future—expressed by different Ananda communities and ministers from around the world
Guests from our Ananda communities worldwide: India, Europe, throughout the U.S.
A variety of multimedia presentations from around the world
A special day dedicated to the Temple dedication
Pageantry, playfulness, participation
For more information about the schedule visit ananda.org/50th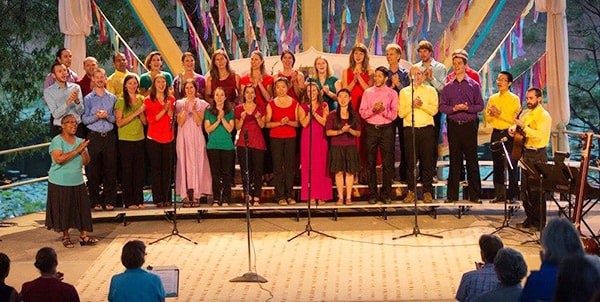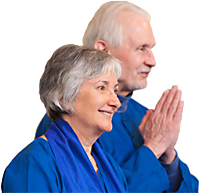 Nayaswamis Jyotish and Devi Novak are the Spiritual Directors of Ananda Worldwide. Longtime devotees of Yogananda, Jyotish and Devi have worked closely with Swami Kriyananda since 1969 and before.
The 50th Anniversary of Ananda Village starts the afternoon of the first date listed and ends with lunch on the last date. Please see:
The 50th Anniversary of Ananda Village starts the afternoon of the first date listed. It's ideal to arrive before 4 pm, if you are able to. That way, you can join in the afternoon session of yoga and meditation, which begins at 4:45 pm. Dinner is at 6:30. The first real gathering of your group is at 7:30 pm. If you need to arrive here after 5 pm, that's fine, but it helps us if you let us know at 800-346-5350. We can also put aside a dinner for you if you need to arrive after 7 pm. The program ends with lunch on the last date. Please see our Daily Schedule.
See Transportation and Directions whether you are coming by plane, car, bus or train. Our Frequent Questions page answers many of the questions you might have about How to Go on Retreat.