Offered at Omega Institute in New York
Paramhansa Yogananda, charismatic author of the spiritual classic Autobiography of a Yogi, was instrumental in bringing yoga to the West. He inspired everyone from Mahatma Gandhi to Luther Burbank to Steve Jobs with his teachings of self-realization and practical tools for success and happiness in all areas of life.
In this 5-day immersion into the heart of Yogananda's teachings, we awaken and engage the power of our hearts and minds, develop dynamic willpower, and access the inner technology of joy. Through yoga, pranayama, and meditation practices, as well as lecture, group discussion, and guided introspection, we:
• Practice foundational techniques of the path of Kriya Yoga
• Cultivate higher awareness and unshakeable happiness
• Engage the inner mechanism of transcendence
• Explore yogic healing techniques
• Energize the body and concentrate the mind
• Increase mental clarity and effectiveness
• Learn about karma and personal success
• Discover how to become a magnet for accomplishment
Led by Nayaswami Gyandev, who has over 30 years of discipleship to Yogananda, this workshop is open to anyone who wants to lead a deeper, more meaningful life. No previous yoga experience is necessary.
Nayaswami Gyandev McCord, PhD, E-RYT 500 is director of Ananda Yoga® worldwide, cofounder of Yoga Alliance, and author of Spiritual Yoga and The Ananda Yoga Series. He is a longtime resident of Ananda Village, an ashram of Paramhansa Yogananda's disciples in Northern California.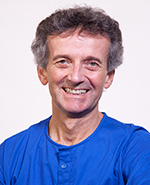 Co-Director of the Ananda Meditation Teacher Training ®, Director of Ananda Yoga®, Level 2 Ananda Yoga teacher, E-RYT 500, Raja Yoga Teacher, Spiritual Travel Host, Writer and Lecturer, Ananda Minister
What is a nayaswami?
Combining a fun-loving spirit, keen insight into the spiritual life, and genuine warmth, Nayaswami Gyandev makes the inner quest seem both natural and doable. Since 1983 he has taught Ananda Yoga to thousands of students and trained hundreds of teachers around the world, often forging deep and lasting bonds of friendship and inspiration.
No dates scheduled for The Heart of Yogananda's Teachings at this time.
Prices are all-inclusive and cover accommodations, meals, classes or activities, and course materials.
The Heart of Yogananda's Teachings starts the afternoon of the first date listed and ends with lunch on the last date. Please see:
RELATED PROGRAMS