Are you longing to accomplish more than you've been able to accomplish so far? Would you like to be more efficient in what you do, more productive? Do you need to make changes in your life, whether inward or outward?
If so, it may be time to make better use of your inner resources, for they govern all success in life. Once you have learned how to strengthen and focus the hidden potentials of your mind and heart, great things can happen.
That's what you will learn to do during this powerful weekend, as you:
Explore specific ways to develop your inner resources
Clear away mental and emotional obstacles to success
Learn techniques that will rewire your brain to be more effective
Apply meditation constructively throughout this process.
And if you already meditate, these principles and practices will deepen your practice.
All this is very doable, and Nayaswami Gyandev will help you do it. He has used these techniques in his own life for many years, and has helped many others to use them as well. Gyandev, one of our most popular and experienced teachers, commented that this program is "the most useful program I've ever taught." That's saying something!
"This class empowers people, and gives them the tools to take charge of their life. Very practical exercises were given—they take very little time but make a big difference. The visualization technique takes visualization to a whole new, higher, more effective level. This class is a great gift to give yourself."
Judy H., Nevada City, CA
"I now have more peace and energy. The tools I learned in this course will keep this newfound strength and energy when I encounter stressful situations. I know I will be more effective."
Amber C., Sparks, NV
"Before I came to The Expanding Light, I was uptight, tense, stressed out, and depressed. All of the staff and people here were so gentle and loving, it immediately changed my attitude from the time I walked through the front door. By the second day I stopped crying and felt so much more happy, more than I can ever remember.
"This was my first trip here, and certainly will not be my last! After just 3 days, I am coming home a completely changed person. I am positive, confident, happy, and radiant. I was lost but now am found.
"Truly a miraculous transformation!! Thank you. Thank you. Thank you!"
Kim A., Chico, CA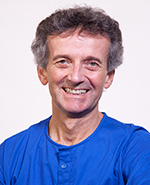 Co-Director of the Ananda Meditation Teacher Training ®, Director of Ananda Yoga®, Level 2 Ananda Yoga teacher, E-RYT 500, Raja Yoga Teacher, Spiritual Travel Host, Writer and Lecturer, Ananda Minister
What is a nayaswami?
Combining a fun-loving spirit, keen insight into the spiritual life, and genuine warmth, Nayaswami Gyandev makes the inner quest seem both natural and doable. Since 1983 he has taught Ananda Yoga to thousands of students and trained hundreds of teachers around the world, often forging deep and lasting bonds of friendship and inspiration.
No dates scheduled for You Can Achieve Greater Effectiveness at this time.
Prices are all-inclusive and cover accommodations, meals, classes or activities, and course materials.
You Can Achieve Greater Effectiveness starts the afternoon of the first date listed and ends with lunch on the last date. Please see:
You can add extra personal retreat days before and/or after your program. Check availability and costs for the days and accommodations that you require.
You Can Achieve Greater Effectiveness starts the afternoon of the first date listed. It's ideal to arrive before 4 pm, if you are able to. That way, you can join in the afternoon session of yoga and meditation, which begins at 4:45 pm. Dinner is at 6:30. The first real gathering of your group is at 7:30 pm. If you need to arrive here after 5 pm, that's fine, but it helps us if you let us know at 800-346-5350. We can also put aside a dinner for you if you need to arrive after 7 pm. The program ends with lunch on the last date. Please see our Daily Schedule.
See Transportation and Directions whether you are coming by plane, car, bus or train. Our Frequent Questions page answers many of the questions you might have about How to Go on Retreat.
RELATED PROGRAMS