This Happiness Getaway retreat will help you regain your inner balance, and discover that happiness can be yours, no matter what is going on around you. You will gain a marvelous toolbox of resources to develop the quality of happiness within yourself, and regain it when life circumstances throw you off.
Benefits of this Happiness Getaway
During this experiential weekend, you will:
Experience how your life can be changed through practicing this meditation even 5 minutes a day
Discover how to uplift your own thoughts and energy level
Have fun and enjoy yourself, at the same gaining simple and wonderful tools to take home
Your weekend will be relaxing—you can feel comfortable to be yourself, and to discover more about your highest potential.
3 Tips for a Happiness Getaway Retreat
1. Remember 2 words: Location and Choice
2. Happiness can be found in the front of the brow, the prefrontal lobes, also known as the spiritual eye. Develop the habit of bringing your attention there.
3. We must make the choice to be happy—not just once, but daily, and moment by moment.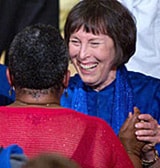 "No matter what you are doing, keep the undercurrent of happiness, the secret river of joy, flowing beneath the sands of various thoughts and the rocky soils of hard trials. Learn to be secretly happy within your heart in spite of all circumstances, and say to yourself, 'Happiness is my greatest divine birthright — the buried treasure of my soul. I have found that at last I shall secretly be rich beyond the dream of kings.'"
—Paramhansa Yogananda

From our guests:
"Beginning with the first night, the questions asked were wonderful for getting us in touch with our own goals and for connecting us with one another." —R.S., Aptos, CA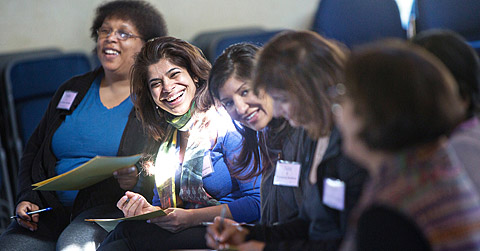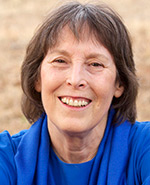 Kriyacharya, Ananda Minister, Counselor, Level 2 Meditation Teacher, Raja Yoga Teacher
What is a nayaswami?
Nayaswami Anandi is known for her natural warmth, humor, wisdom, and kindness. Almost since her arrival at Ananda in 1971 as a founding member of Ananda, she has been sharing the teachings of Paramhansa Yogananda.
No dates scheduled for Happiness Retreat Getaway at this time.
Prices are all-inclusive and cover accommodations, meals, classes or activities, and course materials.
Happiness Retreat Getaway starts the afternoon of the first date listed and ends with lunch on the last date. Please see:
You can add extra personal retreat days before and/or after your program. Check availability and costs for the days and accommodations that you require.
Happiness Retreat Getaway starts the afternoon of the first date listed. It's ideal to arrive before 4 pm, if you are able to. That way, you can join in the afternoon session of yoga and meditation, which begins at 4:45 pm. Dinner is at 6:30. The first real gathering of your group is at 7:30 pm. If you need to arrive here after 5 pm, that's fine, but it helps us if you let us know at 800-346-5350. We can also put aside a dinner for you if you need to arrive after 7 pm. The program ends with lunch on the last date. Please see our Daily Schedule.
See Transportation and Directions whether you are coming by plane, car, bus or train. Our Frequent Questions page answers many of the questions you might have about How to Go on Retreat.
RELATED PROGRAMS