Take a spiritual vacation that can dramatically change your life for the better!
During this 5-day retreat in higher consciousness, we'll dive deeply into the philosophy of how to live in happiness, as well as use some of the countless yogic tools to practice lifting our consciousness.
You will receive in-depth training in a practical and profound meditation technique that can work for you. We'll have guided meditations throughout the week to strengthen your practice.
You'll discover the powerful 8-limbs of yoga, as described by Patanjali—a non-denominational guide to self-realization for any seeker. Throughout the week, you will explore specific parts of his guidelines.
Other topics and experiments include:
• What is intuition, and how can you get intuitive guidance in your life?
• Working with pranayama exercises to raise the energy, and affirmations to raise the consciousness.
• Explore and experience the chakras, through discussion, chanting, and visualization.
• A morning of silence at Ananda's sacred Meditation Retreat, and an afternoon pilgrimage to Crystal Hermitage.
You will also enjoy the opportunity for 2 guided sessions of yoga postures and meditation daily, devotional chanting, healing prayers, and much more.
Everyone can benefit from this week—newcomers and seasoned devotees—because your spiritual experiments will help you discover truth and joy on deeper and deeper levels within yourself.
Included in the cost of this course is a copy for you of The Essence of Self-Realization: The Wisdom of Paramhansa Yogananda, recorded and compiled by his disciple, Kriyananda.
From Anandi:
One of my favorite parts of teaching at The Expanding Light is seeing how inspired, empowered, and, in a way, liberated, people feel when they discover the soul-thrilling keys to Eastern wisdom. Join us! We'll have a lot of fun.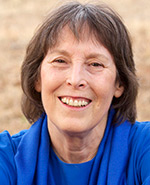 Kriyacharya, Ananda Minister, Counselor, Level 2 Meditation Teacher, Raja Yoga Teacher
What is a nayaswami?
Nayaswami Anandi is known for her natural warmth, humor, wisdom, and kindness. Almost since her arrival at Ananda in 1971 as a founding member of Ananda, she has been sharing the teachings of Paramhansa Yogananda.
No dates scheduled for Experiments in Self-Realization at this time.
Prices are all-inclusive and cover accommodations, meals, classes or activities, and course materials.
Experiments in Self-Realization starts the afternoon of the first date listed and ends with lunch on the last date. Please see:
You can add extra personal retreat days before and/or after your program. Check availability and costs for the days and accommodations that you require.
Experiments in Self-Realization starts the afternoon of the first date listed. It's ideal to arrive before 4 pm, if you are able to. That way, you can join in the afternoon session of yoga and meditation, which begins at 4:45 pm. Dinner is at 6:30. The first real gathering of your group is at 7:30 pm. If you need to arrive here after 5 pm, that's fine, but it helps us if you let us know at 800-346-5350. We can also put aside a dinner for you if you need to arrive after 7 pm. The program ends with lunch on the last date. Please see our Daily Schedule.
See Transportation and Directions whether you are coming by plane, car, bus or train. Our Frequent Questions page answers many of the questions you might have about How to Go on Retreat.
RELATED PROGRAMS