Experience a refreshing interpretation of Christ's teachings from Paramhansa Yogananda's book, Autobiography of a Yogi. Yogananda came to bring a "new expression" of Christ's universal message and to help all of us actually experience the kingdom of heaven within.
During this weekend not only will we explore Jesus' teachings from a Yogic perspective, but also learn techniques to make his presence an ever deepening reality in our lives:
What did Jesus mean when he said he was the "only son of God"?
How did Jesus and other saints perform miracles?
The need for a personal savior—Guru
Techniques to commune with Christ
Yogic interpretations of the Holy Trinity, the origins of good and evil, and free will vs. karma
Special topic! Where was Jesus during his "lost years?" What was he doing?
It was from my Hindu guru, unknown to the roll call of Christian membership, that I learned to perceive the deathless essence of the Bible… –Paramhansa Yogananda, Autobiography of a Yogi
During this weekend we invite you to unplug from your devices and totally immerse yourself in this weekend of inspiration, peace, and renewal. Let the true spirit of Christmas fill you with ever new joy!
Energization, Yoga, and Meditation–Start your days off right with the essential techniques for developing a deeper experience of God's presence within
The Essential Teachings—Learn the teachings of Jesus Christ which Yogananda focused on in his Autobiography of a Yogi.
Experiential Joy– An interactive class to explore how we can integrate Christ's teachings more dynamically into our lives. Includes experiential activities, creative writing, discussion, storytelling, and laughter.
Music and Meditation in the chapel of St. Francis—Crystal Hermitage Gardens at Ananda Village has a small chapel that is beautifully reminiscent of the Porziuncola, the Little Church of St. Francis in Assisi. Here we will listen to a few musical pieces from "Christ Lives: An Oratorio" by Swami Kriyananda, and intersperse our silent meditation with verses from the Bible that were quoted by Yogananda most often.
For more information, please send us a Question or Comment:

Receive monthly news and inspiration.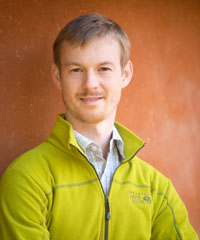 Inspirational teacher and retreat leader
International Director, Sharing Nature Worldwide
Gardener, Crystal Hermitage Gardens at Ananda Village
Sundara (Greg) Traymar is the International Director of Sharing Nature Worldwide and has been personally trained by world renowned author Joseph Bharat Cornell. Sundara is a gifted and inspiring teacher and wins friends wherever he travels. He has spent the last 12 years traveling the world, helping others deepen their love for nature.

or e-mail or call us at 1-800-346-5350
Costs (CTAY)
Costs are on a per person basis.
Tent
RV
Standard
Shared
Standard
Private
Deluxe
Shared
Deluxe
Private
$308
$386
$508
$476
$642
Prices are all-inclusive and cover accommodations, meals, classes or activities, and course materials.
Christ's Teachings in Autobiography of a Yogi starts the afternoon of the first date listed and ends with lunch on the last date. Please see:
You can add extra personal retreat days before and/or after your program. Check availability and costs for the days and accommodations that you require.
Christ's Teachings in Autobiography of a Yogi starts the afternoon of the first date listed. It's ideal to arrive before 4 pm, if you are able to. That way, you can join in the afternoon session of yoga and meditation, which begins at 4:45 pm. Dinner is at 6:30. The first real gathering of your group is at 7:30 pm. If you need to arrive here after 5 pm, that's fine, but it helps us if you let us know at 800-346-5350. We can also put aside a dinner for you if you need to arrive after 7 pm. The program ends with lunch on the last date. Please see our Daily Schedule.
See Transportation and Directions whether you are coming by plane, car, bus or train. Our Frequent Questions page answers many of the questions you might have about How to Go on Retreat.