Tofu Vegetable Noodle Soup

This is a soothing and comforting soup. Good sources of protein are tofu and Tahini. The buckwheat noodles are gluten-free.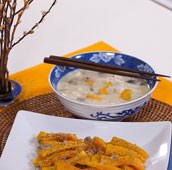 Ingredients:
1/4 cup sunflower oil
1 1/2 cups onion, minced
1 clove garlic, peeled and minced
1 carrot, peeled and cut into half rounds
2 cups bok choy, thinly sliced
2 tablespoons fresh ginger, peeled and grated
1 cup green cabbage, chopped
1 cup broccoli florets, cut into small pieces
1 cup white button mushrooms, sliced
6 cups water
1 package firm tofu (14-16 ounces), cut into 1/4 inch cubes
4 ounces Udon noodles (or buckwheat or rice noodles)
3 tablespoons sesame oil
6 tablespoons raw tahini
2 tablespoons mellow miso
2 tablespoons Bragg's Liquid Aminos or tamari
1 cup broth from soup

Instructions:
In a pressure cooker, heat 1/4 cup sunflower oil on medium heat. Add 1 1/2 cups minced onion and 1 clove minced garlic and sautee until onions are golden. Add 1 cut carrot, 2 cups thinly sliced bok choy, 2 tablespoons fresh grated ginger, 1 cup chopped green cabbage, 1 cup cut broccoli florets and 1 cup sliced white button mushrooms. Sautee for 5 minutes.
Add 6 cups water and 1 package cubed tofu. Secure lid of pressure cooker and bring to a boil on high heat. Lower heat and simmer for 5 minutes (or as needed according to pressure cooker used).
Turn heat off. Let pressure cooker cool down until it is safe to open.
While soup is cooking, break 4 ounces Udon noodles into thirds. Bring pot of water to a boil. Add noodles and simmer until cooked (about 8 minutes).
If desired, add a little water to thin sauce.
After pressure cooker can be opened, place 3 tablespoons sesame oil, 6 tablespoons raw tahini, 2 tablespoons mellow miso, 2 tablespoons Bragg's and 1 cup broth from soup in a blender. Blend.
Add blended miso mixture and the cooked noodles to soup before serving.
Note: If you need to reheat soup later, make sure to warm, but not boil it. If miso is boiled, it will lose its beneficial digestive enzymes.
More recipes
Holistic Health

Receive monthly news and inspiration.
Global Kitchen
Create Healthy, Flavorful Meals with an International Flair