Tempeh with Broccoli Recipe

A good source of protein and vitamins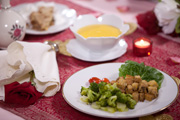 Ingredients:
2 8-ounce packages plain tempeh,
cut into 1/2 inch cubes
1/4 cup coconut oil,
Drizzle of Braggs Liquid Aminos,
Squeeze of lemon juice
1-2 tablespoons fresh ginger juice*
4 heads broccoli** rinsed and cut into bite-size flowerets
1 cup water,
Stems of 4 heads broccoli, peeled and cut into 1/4 inch diagonal slices

Instructions:
In a large skillet, heat 1/4 cup coconut oil on low heat. Add tempeh cubes, in one layer, and saute on low heat until brown (about 8-10 minutes). Add a drizzle of Braggs, a squeeze of lemon juice and 1-2 tablespoons fresh ginger juice.** Set aside.
In steamer pot, boil about 1 cup water. First add to steamer basket, sliced broccoli stem pieces. After a few minutes, add broccoli flowerets. Steam for 5 to 8 minutes, until bright green and crisp-tender.
After broccoli is ready, place in serving bowl and sprinkle with olive oil, sea salt and a squeeze of lemon juice. Either mix with tempeh cubes or serve separately.
* Making ginger juice: Grate whole, unpeeled ginger root. Place small amount of grated ginger into palm of hand and squeeze its juice into a bowl. Discard ginger pulp.
** You can use any other green vegetable, such as kale, bokchoy, etc.
More recipes
Holistic Health

Receive monthly news and inspiration.
Global Kitchen
Create Healthy, Flavorful Meals with an International Flair