Black Beans with Yams and Leeks Recipe

Colorful, quick and delicious.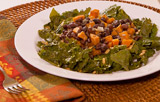 Ingredients
1 cup black beans (pre-soaked)
3 cups water
2 bay leaves
2 tablespoons coconut oil
1 leek, finely chopped or minced (use white and green parts)
Celtic salt, a pinch or two
2 cups yam, peeled and cut into 1/2 -inch cubes
Bragg's Liquid Aminos (or tamari), to taste
1/4 cup water
Instructions
Begin by cooking black beans. Drain the soaking water and place 1 cup black beans in a pressure cooker.
Add 3 cups water and 2 bay leaves. Secure lid and turn to high heat. When pressure cooker comes to full steam, lower heat and simmer for 8 minutes (or as needed according to pressure cooker used).
Turn heat off. Let pressure cooker cool down until it is safe to open.
Set aside. Keep covered until serving.
Heat 2 tablespoons coconut oil in a 10- or 12-inch cast iron skillet. When oil is melted and heated, add 1 chopped leek and a pinch or two of Celtic salt. Lightly saute.
When leek becomes translucent, add 2 cups cubed yam, a drizzle of Bragg's (or tamari), and 1/4 cup water. Cover and simmer about 5 minutes, or until yam cubes are soft when pierced with a fork.
Turn heat off and keep covered until serving.
More recipes
Holistic Health

Receive monthly news and inspiration.
Global Kitchen
Create Healthy, Flavorful Meals with an International Flair