Aduki Bean Salad Recipe

High in protein, rich in fiber, B vitamins and minerals and helps lower cholesterol.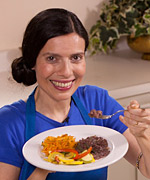 Ingredients:
1 cup aduki beans (pre-soaked)
4 cups water
2 bay leaves optional
1 tablespoon lemon juice
2 tablespoons olive oil
1 1/2 tablespoons Bragg's Liquid Aminos
1 1/2 teaspoon cumin powder
1 1/2 teaspoon coriander powder
2 tablespoons fresh parsley, minced
1 cup fresh green beans trimmed and halved
1/4 cup sunflower seeds

Place rinsed and pre-soaked aduki beans in a pressure cooker with 4 cups water and 2 bay leaves (optional). Secure lid of pressure cooker and bring to a boil on high heat. Lower heat and simmer for 5 minutes (or as needed according to pressure cooker used).
Turn heat off. Let pressure cooker cool down until it is safe to open.
For dressing, mix in a bowl 1 tablespoon lemon juice, 2 tablespoons olive oil, 1 1/2 tablespoons Bragg's, 1 1/2 teaspoons cumin powder, 1 1/2 teaspoons coriander powder and 2 tablespoons fresh minced parsley. Set aside.
Place 1 cup trimmed and halved green beans in a steamer basket over boiling water. Steam until crisp-tender, about 5 minutes.
Place 1/4 cup sunflower seeds in a dry skillet over medium heat. (High heat will burn seeds). Lightly toast, stirring often. Set aside.
When aduki beans are done, drain and mix with dressing and steamed green beans. Serve, garnishing with toasted sunflower seeds.
More recipes
Holistic Health

Receive monthly news and inspiration.
Global Kitchen
Create Healthy, Flavorful Meals with an International Flair