Early Days of Ananda: Living History
An entertaining and inspiring weekend with stories of the early beginnings of Ananda from the people helped build the community. This year we'll cover the expansion of Ananda after the fire - the years from 1979 to the early 1980s.
This is a weekend that will be filled with hilarity and fun, and at the same time tremendous inspiration. The story of Ananda's early days has much to teach any serious spiritual aspirant:
How to live courageously
How to move forward when everything seems impossible
How to live harmoniously with others
Ways to experience the benefits of meditation throughout your day
We offered this for the first time in 2013, with the earliest pioneers—those who were here before there were houses. Guests were profoundly moved by the stories of those early times.
Speakers in 2017 will include: Jyotish, Devi, and others to be announced.
If you love Ananda and the people of Ananda, you will love this weekend. The founding members of the community, Ananda's "old-timers," will share the adventures, the humor, the joyful figuring it out together, trying to attune to the power and grace of the Masters to manifest Their vision of community.
You will leave this weekend feeling uplifted, hopeful, and more committed to your own spiritual journey.
If you are interested in spiritual community, if you are interested in people, if you want more joy in your own life, please join us!
For more information, please send us a Question or Comment:

Receive monthly news and inspiration.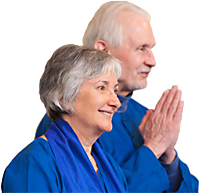 Nayaswamis Jyotish and Devi Novak are the Spiritual Directors of Ananda Worldwide. Longtime devotees of Yogananda, Jyotish and Devi have worked closely with Swami Kriyananda since 1969 and before.
No dates scheduled for Early Days of Ananda: Living History at this time.
Prices are all-inclusive and cover accommodations, meals, classes or activities, and course materials.
Early Days of Ananda: Living History starts the afternoon of the first date listed and ends with lunch on the last date. Please see:
You can add extra personal retreat days before and/or after your program. Check availability and costs for the days and accommodations that you require.
Early Days of Ananda: Living History starts the afternoon of the first date listed. It's ideal to arrive before 4 pm, if you are able to. That way, you can join in the afternoon session of yoga and meditation, which begins at 4:45 pm. Dinner is at 6:30. The first real gathering of your group is at 7:30 pm. If you need to arrive here after 5 pm, that's fine, but it helps us if you let us know at 800-346-5350. We can also put aside a dinner for you if you need to arrive after 7 pm. The program ends with lunch on the last date. Please see our Daily Schedule.
See Transportation and Directions whether you are coming by plane, car, bus or train. Our Frequent Questions page answers many of the questions you might have about How to Go on Retreat.
RELATED PROGRAMS