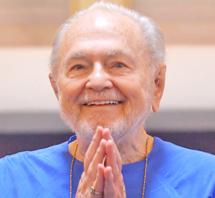 Free Meditation Talks,
by Swami Kriyananda
MP3 Downloads;
* If you have any problem downloading, please Contact Treasures Along the Path.
Treasures is offering the MP3 Meditation Collection of talks as a gift for your inspiration as a Meditation Teacher graduate.
Also:
A free talk given by Swamiji in 2007 in Pune Kriya Yoga in Daily Life on YouTube
What is Treasures Along the Path?
Treasures Along the Path is a collection of spiritual talks by teacher and founder of Ananda spiritual communities world-wide, Swami Kriyananda. His talks cover a range of topics: relationships, the chakras, karma and reincarnation, spiritual living, consciousness, overcoming obstacles, and more. See the Top Twenty Talks
If you would like to also freely share the Meditation Collection talks with students, by all means do so, and mention that they are welcomed to visit our website for other talks that appeal to them and/or sign up to receive a newly released archive talk on the 15th of each month. There are up to 3,000 talks by Swami Kriyananda on old media (cassettes and reel to reel) that have yet to be released, so there will be "new" talks coming out for years to come!
Join bi-monthly Treasures Satsangs, free on line! Listen to a talk by Kriyananda attended by Ananda Village residents who you see on the screen and also people from all over the world.



What is the most insightful advice an Ananda Meditation Teacher has presented you?
Find Out...

Receive monthly news and inspiration.