Ananda Yoga brings yoga back to its original spriritual essence
Exercise and stress relief are only the beginning; the higher purpose of Ananda Yoga practice is to uplift your consciousness. To accomplish that, you'll work not only with your body, but also with your prana (subtle energy) and the inner faculties of your mind and heart.
The resources below will help you explore the many facets of Ananda Yoga, which was developed by Swami Kriyananda, based on the teachings of his guru, Paramhansa Yogananda, author of the spiritual classic, Autobiography of a Yogi
Ananda Yoga brings yoga back to its original spiritual essence. More...
Order these Ananda Yoga products More...
Warm-Up videos for asana and pranayama Practice More...
For asana and pranayama practice More...
Yoga Teacher • Yoga Therapist • Meditation Teacher More...
USA • India • Costa Rica • Europe More...

Ananda Meditation Teacher Training
Thursday, June 29 – Sunday, July 9

Ananda Yoga Teacher Training
Sunday, July 9 – Sunday, August 6

Ananda Yoga Assistantship
Sunday, July 9 – Saturday, July 22
Bridge to Ananda Yoga
Sunday, July 9 – Monday, July 17

Yoga Therapy Training: Psychology and Mental Health
Wednesday, July 26 – Monday, July 31
Preparing for a Lifetime of Kriya
Tuesday, August 8 – Sunday, August 13
View our entire Calendar >


The most fundamental piece of advice I received from an Ananda Yoga teacher is this: The energy that moves through our bodies, our prana, directly affects our consciousness and how we choose to use this energy can change who we are..

More >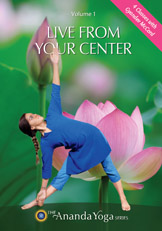 Live from Your Center, the first DVD of
The Ananda Yoga Series, is now available!


Paramhansa Yogananda
and his direct disciple
Swami Kriyananda