Watercress Salad

Watercress clears toxins and aids digestion..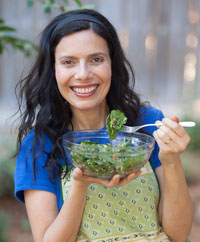 Watercress is a spicy and stimulating herb that helps clear toxins and aids digestion. It has a cooling and refreshing effect.
Ingredients:
3 tablespoons olive oil
2 teaspoons lemon juice
1 teaspoon honey
1 bunch of watercress leaves* (about 2 cups)
1 orangepeeled and divided into segments
Sea salt, to taste

Instructions:
Place 3 tablespoons olive oil, 2 teaspoons lemon juice and 1 teaspoon honey in a glass jar and shake to mix.
In a bowl, mix the 2 cups of watercress leaves with the orange segments. Pour the dressing on top of the salad. Add sea salt to taste.
*For milder flavor, use 1 cup watercress and 1 cup mild lettuce (butter head), torn into bite size pieces.
More recipes
Holistic Health

Receive monthly news and inspiration.
Global Kitchen
Create Healthy, Flavorful Meals with an International Flair