Vegetable Curry Recipe

For the love of Spices!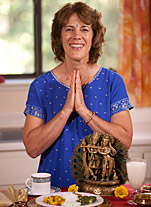 Ingredients:
3 cups vegetables (any combination preferred)
1/2 cup frozen peas
2 tablespoons ghee, or sunflower oil
1/2 teaspoon cumin
1 teaspoon coriander powder
1/2 teaspoon turmeric
1/4 teaspoon cayenne, or to taste
1 teaspoon sea salt
1/2 teaspoon anise seed
1 medium yellow onion, finely choppedfinely chopped
1/2 cup tomato, peeled and diced
1 tablespoon fresh lemon juice

Instructions:
Peel and cut vegetables into1/2 - 3/4 inch pieces. If using root vegetables (e.g. carrots, parsnips, turnips, beets, potatoes), steam together in a steamer basket until crisp-tender. Separately steam other 'lighter' vegetables (e.g. broccoli, cabbage, cauliflower; the exception is frozen peas, which are defrosted and added during last 2-3 minutes to prevent discoloration.) Do not overcook vegetables.*
Heat a large skillet on medium heat, adding 2 tablespoons ghee. Warm the ghee and add 1/2 teaspoon cumin, 1 teaspoon coriander powder, 1/2 teaspoon turmeric, 1/4 teaspoon cayenne (or to taste), 1 teaspoon sea salt and 1/2 teaspoon anise seed. Lightly saute but do not burn the spices. Ghee gets very hot quickly.
Add 1 chopped onion and saute until almost translucent. Add 1/2 cup diced tomato and cook 5 minutes.
Add the vegetables and cook for about 7 minutes.
If desired, add a little water to thin sauce.
* This dish can be made easily ahead of time. If you are going to reheat, make sure the vegetables are steamed to about 90% of being done. That way when you reheat they will not be overcooked. Also, add the defrosted peas during the last 2 minutes of reheating the dish.
More recipes
Holistic Health

Receive monthly news and inspiration.
Global Kitchen
Create Healthy, Flavorful Meals with an International Flair