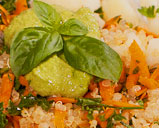 Green Almond Pesto Recipe

Great with quinoa salad.
Ingredients:
1/2 cup almonds soaked and peeled (or cashews or walnuts)
2 cups packed basil leaves (or 1 cup cilantro and 1 cup parsley)
3/4 cup olive oil*
2 tablespoons water
1 tablespoon fresh lemon juice
1/2 teaspoon sea salt
1-2 cloves garlic, minced (optional)

Instructions:
Soak 1/2 cup almonds overnight, peeling the next morning.
Place 1/2 cup soaked, peeled almonds in blender and grind until almonds are finely ground.
Add 2/3 cup olive oil and 2 tablespoons water, 2 cups packed basil leaves, 2 tablespoons fresh lemon juice, 1/2 teaspoon sea salt and 1-2 cloves minced garlic (if desired). Blend until smooth.
* For thinner consistency, add more oil as desired.
More recipes
Tofu Spinach Pie- Non-dairy, healthy version of Greek spinach pie (spanakopitta)
Holistic Health

Receive monthly news and inspiration.
Global Kitchen
Create Healthy, Flavorful Meals with an International Flair