Take Charge of Your Life Series - Online

Yogic Techniques for Thriving Amidst Change
Not scheduled at this time.
with Nayaswami Gyandev and Nayaswami Diksha

Gain a Wide Spectrum of Practical Insights
Are you ready for roll-up-your-sleeves spirituality? Do you want specific things you can do—not mere philosophy—to make positive shifts in your life?
If so, then this highly experiential course is perfect for you. You'll gain an entire toolbox of simple, yet powerful, techniques for working directly with subtle energy, the intelligent force that makes things happen in this world—and inside of you.
It all comes from Paramhansa Yogananda, author of Autobiography of Yogi, and his close, direct disciple, Swami Kriyananda, the founder of Ananda.
This course is spread over 7 weeks, with an open week between each of its four one-week units.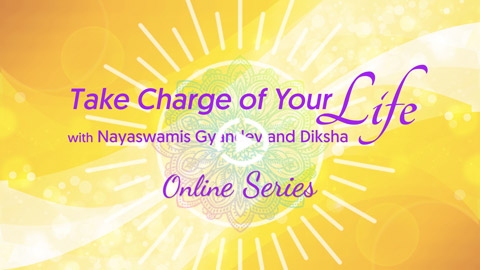 Benefits
Be Guided by Experts
Master the Body-Energy-Mind Connection
Overcome Barriers to Success
Learn techniques That You Can Use Anytime
Gain a Wide Spectrum of Practical Insights
Course Format
Module 1 (May 9-16): Have Dynamic Energy—and Use It!
Module 2 (May 23-30): Harmonize Your Emotions
Module 3 (June 6-13): Increase Your Magnetism
Module 4 (June 20-27): Live in a Superconscious Flow
Instructors
Your instructors, Nayaswamis Gyandev and Diksha, have been practicing and teaching these techniques for decades, and they'll share with you their experiential knowledge of how to make the most of them.