Yoga Getaway for Memorial Day

Find Balance, Harmony, and Strength
3-day weekend
There are no dates currently scheduled.
Take a weekend getaway that will leave you feeling physically rejuvenated and mentally "awake and ready" for the coming of summer. There's no better vacation than one that helps you change your pace and refresh your inner resources.
At your Yoga Getaway weekend you will use yoga postures, breathing exercises, and meditation to find the balance, harmony, and strength you need to meet the challenges of life with joy and a sense of clarity.

Guest responses to the weekend:
"This yoga getaway was exactly what I needed to unplug, regroup, and re-focus my mind, body, and spirit." —K.H., West Sacramento, CA
"Badri is a great instructor and wise beyond his years." —K.B., Redwood City, CA
"I loved all of the classes. They were all so beautiful, therapeutic, informative (yet informal), fun, energizing, yet calming. Thank you so much to the Kitchen for all of the Vegan options. I cannot stress enough how much I appreciate how incredibly accommodating everyone was in every way. Thank you times infinity!" JoAnna, Grand Island, NY
"Excited to return. The grounds are beautiful. Staff very helpful. Instructors knowledgeable. So nice to meet people from all over the U.S. with like views." Laurie, Sacramento CA
Tentative Schedule
Friday

evening:

Opening session, overview, and

meditation

Saturday

morning:

Energizing Ananda Yoga class

afternoon:

Yoga and the chakras

evening:

to be announced

Sunday

morning:
Ananda's inspiring Sunday Service
afternoon:
Relax and recharge at Crystal Hermitage
evening:
to be announced

Monday

morning:
Take it home with you: simple ways to use what you learned here at home and at work.
lunch:
Goodbye and Go with Love.
This weekend will be led by Badri and other fine Ananda yoga instructors.
More details about your reservation for Yoga Getaway for Memorial Day

Receive monthly news and inspiration.
Come a Day Early
Relax, Take a Walk,
Get a Massage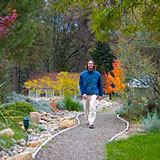 Stay an Extra Day, Relax,
Absorb Your Experience