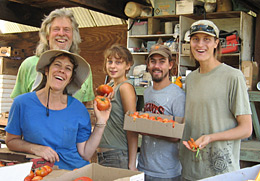 Ananda Organic Farm Apprenticeship
Welcome to Ananda Farm
Growing Food Sustainably
You can participate, learn, and grow your skills on our high-yield working farm, created on what was initially exceedingly poor soil over 40 years ago.
Our motto is: "If you learn to grow food on this farm, you can grow food anywhere."
You will be working with an experienced staff who have served on this farm since its early beginnings. Annually we produce over 10 tons of food on 2 acres. We currently grow over 30 varieties of fruits, vegetables, and herbs 12 months a year.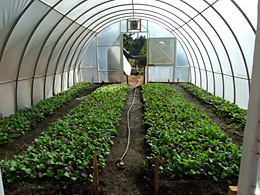 You will learn about: soil management and cultivation, "reading" the soil and recognizing indicators of a healthy soil, water conservation and management, greenhouse production and season extenders, transplanting, seed selection and production, food processing and storage, harvest and distribution, CSA development, plant propagation and research, the relationship between consciousness and plant growth, composting and green manure production, crop rotation and cover cropping, herb production and handling, orchard care, natural pest management, and fruit trees (pruning/thinning/care).
This is a hands-on approach to growing food, along with plenty of time for instruction in the field. The work is physically demanding, as well as supremely rewarding and fun.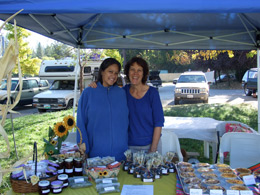 Ananda Farm (a CCOF registered Farm) has served the greater community by participating in local farmers' markets, selling food to large wholesale distributors, running an herbal business with both product and plants for sale, and supplying Ananda Village, The Expanding Light, and Meditation Retreat with seasonal produce.
Seasonal Apprenticeship Program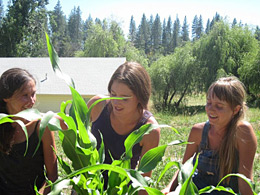 Our program runs primarily between June 15 and September 15—the most hospitable weather for tenting. We will consider some individuals who want to work with us outside of this time period.
After completing 2 to 4 weeks of the regular Karma Yoga program at The Expanding Light Retreat, your schedule will be arranged so that you can continue to actively participate in the daily yoga postures and meditation sadhanas, classes, and meetings. About 1/3 of your work week will be in service at The Expanding Light Retreat and about 2/3 of your week will be serving at the Ananda Farm. You will be serving approximately 30 hours per week total. The cost is the same as the regular Karma Yoga program. Partial scholarships are available, contingent upon experience and commitment.
Methodology and Intuitive Farming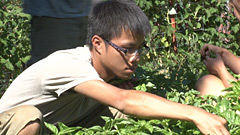 Ananda Farm began with an emphasis on Biodynamic Agriculture. Rudolf Steiner wrote of agriculture as an interplay of the cosmic forces of the plant kingdom, the animal kingdom, Spirit, and man. We have preserved the elements of this approach that support a vegetarian community.
Yogananda taught conscious interaction of Spirit and man; Ananda Farm has incorporated also the wisdom of Luther Burbank, the famous horticulturalist and friend of Yogananda's, to whom Yogananda dedicated his Autobiography of a Yogi. Yogananda encouraged people to grow their own food to instill conscious spiritual vibrations and thus help people evolve spiritually. Most importantly, our methods are born of our daily meditation practice as we try to harmonize inwardly with Spirit, and with Nature's wisdom and rhythms.
What aspect of the Karma Yoga Program has influenced your life most deeply?
Find Out...
"The Karma Yoga program has been a profound blessing on my life, imprints of which will nurture my soul till the time of my departure from this world. Feelings of compassion, thoughtfulness, devotion, kindness, and love that were masked by worldly delusions have suddenly resurfaced.
"Healthy and delicious vegetarian meals infused with divine love have done a miracle on my perennial health problems of migraines, heartburn, and fatigue. Yoga postures and meditation have been an immense source of inspiration and joy.
"I came to Ananda absolutely confused and leading a reckless life, typical of many people in present society. Three weeks later, I feel renewed strength and courage, a body in harmony with mind, and a vision for a glorious path. Now I truly understand my purpose in this life."
– Aditya J., San Jose, CA

Receive monthly news and inspiration.